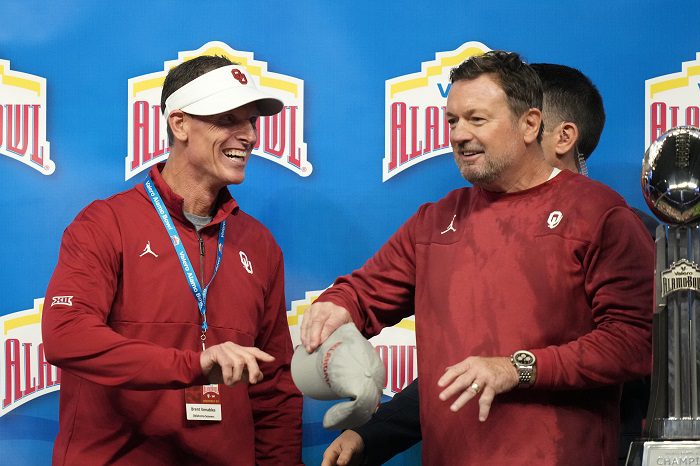 During a Red-White scrimmage back in the early days of the Bob Stoops era, Brent Venables, then Stoops' defensive coordinator, went onto the field to direct his players into position. He remained in the fray as a play was being executed. That was about two decades ago, but the enthusiasm continues now that Venables is Oklahoma's new football skipper.
As a head coach, Venables gets involved in every aspect of the team—offense, defense, and special teams. Last week, Teddy Lehman, OU's radio color analyst, and KREF radio sports jockey, said that Venables was in the mix of every session—teaching skills and helping to run drills.
"I love getting dirty," Venables said. "Getting dirt under my fingernails. That's a good thing. That's a fun thing. Being an additional set of eyes and ears. Blocking dummy. I'll do whatever. That's my expectation. Everybody's the same way. To make things efficient."
People Around Norman Excited About Venables Energy
Defensive backs Billy Bowman and Trey Morrison are both impressed with their head coach getting in the mix of practices.
"I love how he is so in touch with practice," Bowman said. "He's going to demand what he wants and make sure everything is done perfectly."
"He's just so smart about football," added Morrison, a senior transfer from North Carolina. "It's just amazing to hear the extra details he has about plays, just digging deeper and deeper and deeper.
"His energy is crazy. I love it. It gets me hyped for practice. He pushes me. I've always wanted somebody to just really push me. He does it."
Chuck Long, a former Sooner assistant in the early days of the Stoops era, recalled Venables' passion in an interview with John E. Hoover of FanNation.
"He just was full of enthusiasm," said Long. "When you shook his hand, it's like you'd known him for 20 years. He's just one of those guys. And not everybody's that way.
"One of the most personable guys I've ever worked with, been with, and have known. His enthusiasm, positive enthusiasm, I thought went a long way toward building that defense with Mike Stoops, without Mike Stoops, and of course at Clemson, what he's done there."
Venables Needed a 'Get Back' Coach at Clemson
After coaching at Oklahoma for a decade, he took the defensive coordinator job at Clemson, where he spent another decade leading the Tigers' defense before taking OU's head job last December.
"He plays through us. He loves the game; he loves us," Clemson safety K'Von Wallace said. "When we go out there and make the plays, he feels like he makes it. He is excited."
In his second season at Clemson, Venables' passion during games got him close to hot water with officials. He got too excited when his defense was on the field, and he began stepping too far onto the field. Adam Smotherman, Clemson's strength and conditioning coach, got the assignment to restrain Venables during games.
In the Tigers' first game against Georgia in 2013, an official told head coach Dabo Swinney, "Hey, your defensive coordinator, we don't mind him being in the paint a little bit, but he's too far out there. You're gonna have to wrangle him in."
"So Coach Swinney just turned around and saw me and pointed at me and said, 'You're gonna hold him back for the rest of the year,' Smotherman recalled in an interview with Grantland.com. "And I said, 'Yes sir.' Every game from then on out, I just started mirroring him."
Smotherman added that it was the job of assistant coaches to hold the players back in order to achieve "good sideline integrity. But I had never been assigned to one coach specifically, so that was a first for me."
"I'm convinced that if he strapped pads on, he could definitely still play linebacker," Smotherman continued. Venables started as a linebacker for Kansas State in the early 1990s.
"He is explosive, and he's quick, and he's running a mile a minute on the field," Smotherman said.
Smotherman explained that his duty of restraining Venables was only when the Tigers were on defense.
"It's really just when we're on defense. When our offense is on the field, or special teams, he's with the defense, making changes, drawing up different things that he's seen and all that."
Venables' Passion Leaking into the Rest of the OU Staff
Venables continues to have the same passion now that he is a head coach. Jay Valai, who left Alabama to become OU's cornerbacks' coach, said his boss' energy "was awesome."
"Seeing that was awesome because that's him 24/7," Valai recently told Soonerscoop.com. "The passion is real. What you see from him on the field, what you see in interviews, what you see in the locker room, what you see upstairs in his office is who he is."
Defensive back Key Lawrence is playing for his third coaching staff this year. He transferred to Oklahoma after one season at Tennessee and was shuffled between cornerback and safety last year. Lawrence recently told The Oklahoman that Venables was more than a football coach.
"I love that man," Lawrence said. "I heard all the stereotypes like (people) talking about saying you want to run through a wall for that man, but I really would. He tries to teach us life lessons."
Lessons like preparing his players to focus on daily improvement in their lives.
"Because that's the name of the game," Venables said at one of his press conferences. "Just have a daily focus and a formula for success within that day."
In another press conference, Venables said he knows being a head coach is a very demanding profession, especially at a blue blood program like Oklahoma.
"I love it. It's not like work. This part isn't like work, either. I love being in a result-driving profession. That's cool to be on a team. I've been on a team for almost my whole life."