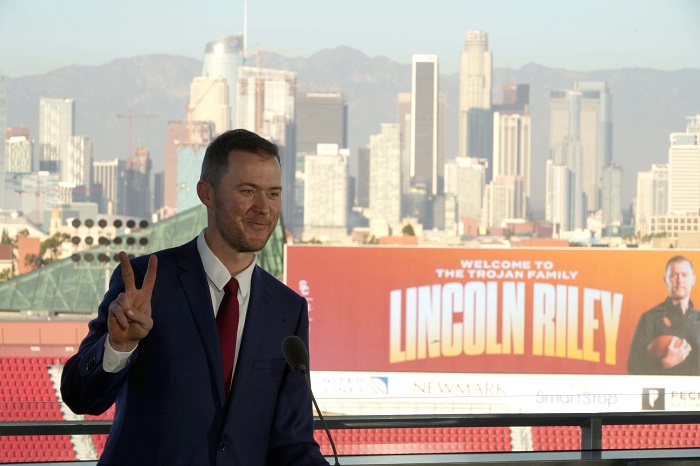 There are very few things in my life that give me nightmares like snakes, getting a real job, and Lincoln Riley's brisket on Easter Sunday of 2021.
I have heard that people are still chewing that brisket to this day. Despite the fact that his brisket was drier than a Popeye's biscuit (with no water), the real problem was the fact that he bragged about it like he was some BBQ pitmaster. I can assure you that I could find better brisket in New York City than the one Lincoln Riley cooked. Honestly, I am not sure if he smoked it or just dehydrated it like a big piece of jerky and if anything needed to be resurrected on Easter, it was that brisket.
Trust me when I say that Oklahoma fans took a lot of harsh words on social media, and to be fair they deserved it, because how on earth can you root for a man who cooks a brisket like this?
As a native Texan, I would like to think that we take a lot of pride when it comes to BBQ in the Lone Star State especially when it comes to beef. Don't forget that Lincoln Riley is also originally from the state of Texas so when he posted that abomination of a brisket, he was embarrassing two states at one time.
With all that said, some time has passed, and Lincoln and his dry brisket are no longer in town. One could argue that one picture he posted last Easter started a chain reaction of bad things to come but I'll save that story for another day. Either way, Lincoln Riley is no longer Oklahoma's problem. He is out west in Los Angeles where people wouldn't know what brisket is because they are all too busy eating tofu and quinoa.
It has been a full calendar year since Lincoln's brisket debacle and just when I thought it was all over, I saw something over the weekend that I couldn't let die. Texas was hosting several recruits for a visit, and it looks like they decided to have a BBQ.
While most of the food looks decent, I couldn't help but look at the brisket and think "What in the hell is that?"
I mean look at this. Is this thick-cut beef jerky or slices of meatloaf? I truly can't tell and look how damn dry it looks. Did Steve Sarkisian call up Lincoln Riley for some BBQ tips or what?
It is just a shame that I have to see this; this is Texas folks. Can they not afford to have one of the dozen great BBQ joints around the Austin area come to cater? They have all the cash in the world and yet, they are serving terrible brisket. That does have me thinking though, what is worse right now, the Texas football program or that brisket? Honestly, that is a tough one for me to answer. No matter what side of the Red River you are on I believe everyone can agree that the last calendar year hasn't been the best for brisket photos. I don't know a ton about the BBQ scene in Oklahoma, but I am sure they have some great places up there. I know Texas does so why can't these two blueblood programs get this brisket situation figured out? Is that too much to ask?