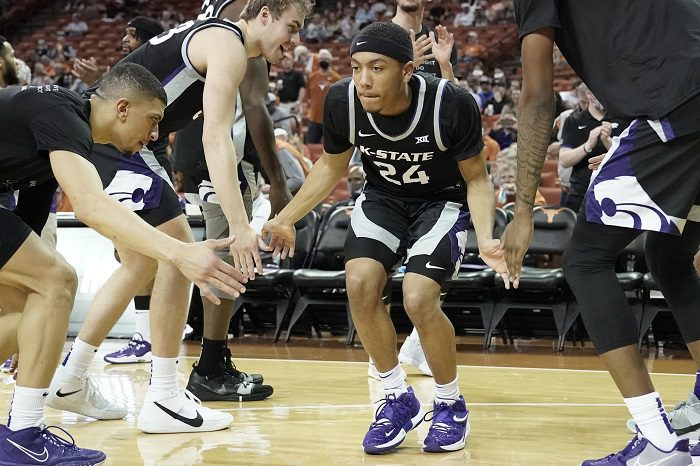 Nijel Pack is the hottest Big 12 commodity in the men's basketball transfer portal, and the former Kansas State guard has no shortage of suitors.
Pack is the only All-Big 12 First Team selection in the portal right now, and this week examine not just which teams are after him, but other thoughts about what's happening in the portal as far as the Big 12 is concerned.
Pack's star shines the brightest. Last week he not only declared for the NBA Draft, but he also submitted his name to the transfer portal. He hasn't ruled out a return to K-State, but he told the Wichita Eagle that he went to K-State to play for Bruce Weber. He also told the Eagle he was impressed with Tang after meeting him, but that didn't stop him from going into the portal.
It's hard to see Pack returning to K-State when you see the reported list of schools that are on him.
The top three teams on that list — Gonzaga, Arizona, and Purdue — all reached the Sweet 16 and have the talent to do it again next season. If you believe Twitter, Purdue is an early favorite, since Pack is from Indianapolis.
Pack can test both the transfer portal and the NBA Draft waters because he decided to retain his eligibility. The 5-foot-10 guard has three seasons, one of which is a COVID waiver. If Pack decides to pass on the NBA — and right now he isn't listed in any notable mock drafts — he would be an instant start for whichever team lands him.
Here are some other thoughts on the portal as of April 5:
Jerome Tang's Headwinds
Losing Pack — at least for now — is a big blow. Plus, it's getting worse. Several other players have moved to the transfer portal. The Wichita Eagle's Kellis Robinett noted that just three players — Markquis Nowell, Logan Landers, and Ismael Massoud — are expected back now. Tang's job has gone from elevating the program to rebuilding it if we're being honest.
The honeymoon is over for Tang. The traditional April signing day is just a couple of weeks away.
An NAIA Transfer?
A note from CBSSports's Jon Rothstein intrigued me. TCU is one of several teams showing interest in an NAIA player, Bethel (KS) guard Jaylon Scott. In fact, TCU is the only Power 5 school showing interest. Naturally, I wanted to see why because, we'll that's a BIG jump. The 6-foot-5 senior averaged 19.2 points and 11.5 rebounds last season. He also dished out 206 assists. Those are huge numbers, no matter the level. Now, I'm not saying Scott can make that jump. But I can see why TCU is intrigued. There's also another reason not to rule out the Horned Frogs. Scott is from Allen, Texas, less than an hour's drive from Fort Worth. OK, it's an hour with traffic.
Jalen Bridges Stays in the Big 12?
We've already seen one player transfer away from a Big 12 school and to another. Jaylon Tyson did that earlier this year when he left Texas and transferred to Texas Tech, the school he originally committed to out of high school. We could see another do it in West Virginia's Jalen Bridges. Travis Barnham at 247Sports outlined Bridges' current schedule of visits. He's already hit Ohio State and will hit Alabama in April. Baylor and Michigan State are on the list, but not scheduled yet. The Bears could use some more scoring length, especially since Kendall Brown has declared for the NBA Draft.
Rebuilding West Virginia
Newly-minted Hall of Fame coach Bob Huggins has his first transfer commitment of 2022-23 as former South Carolina forward Erik Stevenson announced his on Twitter. So that's 11.6 points and 4.7 rebounds in the door after losing the program's Top 4 leading scorers to transfer or eligibility.
Big 12 2021-22 Transfer List
(Out: after 2021-22 season; In: for 2022-23 season; new/old school in parenthesis)
Baylor
Out: F Dain Dainja (Illinois)
Iowa State
Out: C Xavier Foster, F Blake Hinson, G Tre Jackson (Western Carolina), F Javan Johnson (DePaul), G Jaden Walker
In: F Tre King (Georgetown), G Jeremiah Williams (Temple).
Kansas State
Out: F Davion Bradford, F Kaosi Ezeagu, G, Maximus Edwards, G Drew Honas, G Luke Kasubke, F Seryee Lewis, F Carlton Linguard, G Selton Miguel, G Nijel Pack**
Oklahoma State
Out: G Donovan Williams, F Keylan Boone
TCU
Out: G Francisco Farabello, G Cashius McNeilly (Northern Oklahoma College-Tonkawa)
Texas
Out: G Courtney Ramey**, F Jaylon Tyson (Texas Tech)
Texas Tech
Out: G Chibuzo Agbo, G Sardaar Calhoun (Drake), G/F Terrence Shannon Jr.*
In: F Jaylon Tyson (Texas)
West Virginia
Out: F Jalen Bridges, C Isaiah Cottrell, G Sean McNeil, F Seny Ndiaye, F Taj Thweatt (Coastal Carolina)
In: F Erik Stevenson (South Carolina).
*-Has indicated he may return
**-Has also declared for NBA Draft but is retaining college eligibility