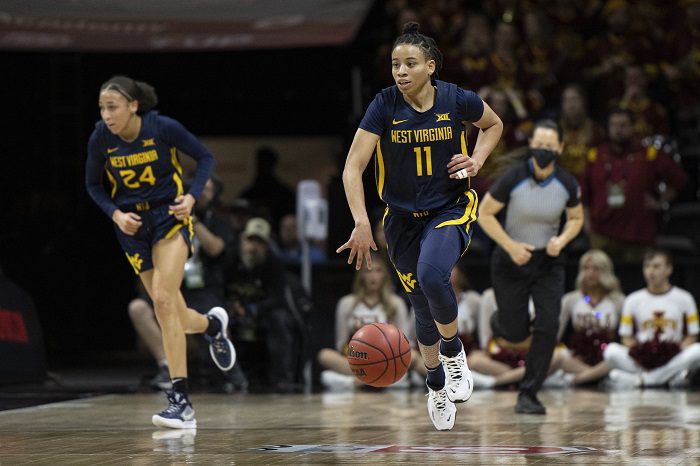 The West Virginia Mountaineers' women's basketball season is done. Here are five thoughts about the 2021-22 season and what's ahead for the basketball program.
The Season
It was a rough one for the Mountaineers, who were coming off a trip to the NCAA Tournament in 2020-21. By the time Big 12 play started, it was clear the Mountaineers had ground to make up on the rest of the league after losing back-to-back games against Iowa State and Kansas State. In early February, the Mountaineers lost KK Deans for the rest of the season due to injury but bounced back immediately to challenge Oklahoma in an double-overtime loss, 101-99. The Mountaineers bounced back to win three of their final four regular-season games and their first Big 12 Tournament game before losing to Baylor in the quarterfinals. The Mountaineers ended the season 15-15 and earned an automatic bid into the WNIT, but turned it down, citing potential changes in the program. Those changes started a few days later with the retirement of long-time head coach Mike Carey. Forward Esmery Martinez finished All-Big 12 Second Team and JJ Quinerly was a unanimous All-Big 12 Freshman.
Who's Leaving?
Carey's retirement was just the start of heavy losses for the Mountaineers. Deans, the Mountaineers' leading scorer despite her injury (14.4 points), entered the transfer portal shortly after Carey's announcement. Forward Kari Niblack (7.6 points, 4.0 rebounds) entered the portal shortly before the announcement. Center Jeanna Cunningham and guard Jasmine Carson are also in the portal. Martinez, last season's second-leading scorer and top rebounder, hit the portal earlier this week. Center Blessing Ejiofor, forward Ari Gray and center Yemiyah Morris were all fifth-year players.
Who's Coming Back?
West Virginia has already turned over its roster page to 2022-23, so that's a bit easier to figure out. Madisen Smith (9.1 points) and Quinerly (8.8 points) are two of seven players expected to return. Guard Jayla Hemingway started every game and averaged 5.2 points. She could be in line for a jump in her numbers next season. From there, it's about developing forward Isis Beh, forward Messiah Hunter, guard Wynter Rogers and guard Savannah Samuel.
Who's Coming In?
Well, the Mountaineers have a new head coach for starters. The Mountaineers hired Dawn Plitzuweit, who just led South Dakota to the Sweet 16 for the first time. She turned the Coyotes into the dominant force in the Summit League. There are three incoming recruits, which constitute Carey's last recruiting class — Imarianah "Mari" Russell (Reynoldsburg, Ohio), Avery "Ace" Strickland (Knoxville, Tenn.) and Yonta Vaughn (District Heights, Md.). Assuming none of them want out of their letter-of-intent due to the coaching change, Plitzuweit inherits a pair of four-star recruits, as rated by ESPN, and another ranked No. 101 by All-Star Girls Report. If Plitzuweit can keep them, it's a high-impact freshman class.
What to Watch For
The change is likely to continue in Morgantown with the hiring of Plitzuweit. Will more Mountaineers head for the transfer portal? Will the three recruits stay signed? Will any of her former players from South Dakota follow her? Will WVU hit the portal for talent? It's the most turnover the Mountaineers have seen in two decades. It should be interested to see how Plitzuweit reshapes the program.
You can find Matthew Postins on Twitter @PostinsPostcard.