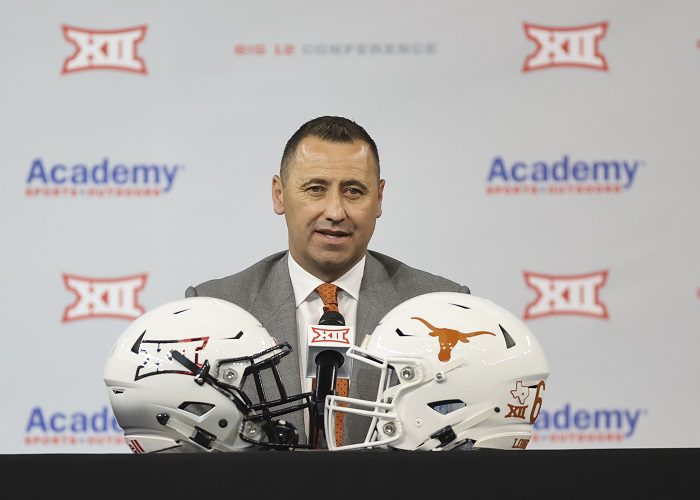 There may be an "offseason", but things never really slow down in college football with recruiting, spring practices, the transfer portal, and of course, the season itself.
Spring football is one of the most exciting times of the year as tidbits about each school's new crop of early enrollees/transfers show what they have and bring new excitement for the upcoming season to the fan base.
Today, Chris Hummer of 247Sports released some intel on some of the top players around the country and Texas quarterback Quinn Ewers was on the list.
Here is what Hummer had to say about the Ohio State transfer.
"Many of the first-team reps at quarterback this spring have gone to Ewers' competition, Hudson Card," Hummer writes. "[Card] is a former top-100 recruit and started Texas' 2021 season opener. But one source recently told 247Sports that Steve Sarkisian and the Texas staff are thrilled with Ewers' progress and think he's better than advertised.
"In order to end up as the starter, Ewers needs to continue to learn the system and be consistent. Sarkisian sees consistency and steady decision-making as critical traits for his starting quarterback. Texas did not get that last season, from Card or Casey Thompson, but the sense in Austin this offseason is Texas' QB room is in better shape. Don't be surprised if you continue to hear Card's name heavily in consideration to be the Week 1 starter – and he's been really good this spring, per sources –  but I still think this will ultimately be Ewers' job to lose.
"One of the highest-rated quarterback prospects ever, Ewers was the No. 2 transfer QB — and No. 2 transfer player overall — in the 2022 cycle per the 247Sports Transfer Rankings."
Texas has lacked elite quarterback play in recent years and when you combine that with bad defense, it leads to disappointing seasons. Longhorn fans hope that mantra is behind them though, and if Ewers truly is better than advertised, then Texas has a special talent on their hands.