Baylor Bears
Bob Bowlsby's Legacy Should Be Viewed Positively for the Big 12 Conference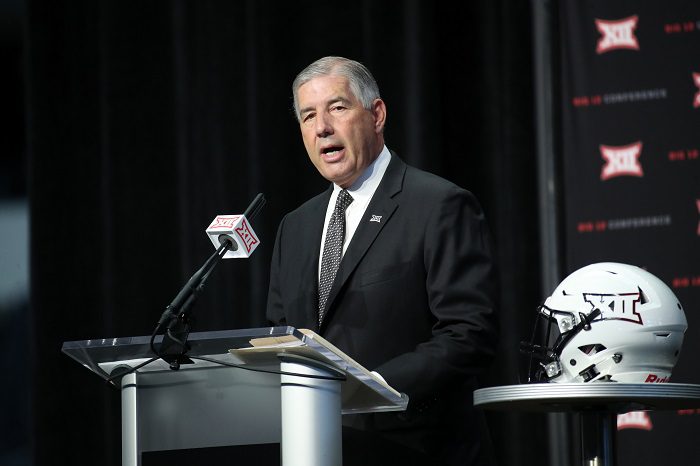 It's easy to trash outgoing Big 12 commissioner Bob Bowlsby.
"He didn't expand earlier!" "He allowed Oklahoma and Texas to leave!" Heck, some even blame him for Nebraska, Texas A&M, Colorado and Missouri leaving, even though he wasn't even the commissioner then.
That's how emotional and removed from the facts many are when discussing the legacy of Bob Bowlsby, who announced this week he would be exiting his post sometime this year.
But for a conference that was on the brink of extinction a decade ago, Bowlsby helped solidify and stabilize it, bringing a respected, steady hand to leadership in a way that his predecessor, Dan Beebe, never did.
Oklahoma, Texas Leave
The most-obvious critique of Bowlsby is that he somehow let Oklahoma and Texas leave the Big 12 Conference. That's not true. In fact, I was sitting there at Big 12 Media Days this past summer when Bowlsby even joked that he was grateful there was no Big 12 expansion discussion to be had this summer.
Then, one week later, the bottom fell out with the explosive news that OU and Texas were leaving for the SEC.
Is that really on Bob Bowlsby? Do you genuinely believe Bowlsby could have prevented this from happening? These two blue bloods did what they thought was in their best interest for football and revenue and made the move they thought they had to make.
In fact, the one part of the equation that remained the same in all the Big 12 drama dating back to its founding a generation ago is: Texas. Not the commissioner, or anybody else in the league, for that matter.
Texas looked out for No. 1, which I will add, I understand. But there's nothing Bob Bowlsby was going to do to stop it. And Oklahoma, when presented their options, felt this was a move they had to make as well.
Moving Forward
What I'm more interested in, when analyzing Bob Bowlsby's legacy, is how he handled the fallout. And the answer to that is, "incredibly well".
First, Bowlsby went to war with ESPN. Yes, in a sport that is owned by ESPN, Bowlsby went scorched earth against the biggest TV partner in the sport. And he was right to do that. He had to do it.
And right after that, he moved into expansion mode to save the conference, despite the bogus reports coming from ESPN employees that somehow it was the AAC that was going to dissolve the Big 12, which made no sense then and makes even less sense now.
That always appeared to be a strong-armed move from ESPN to try and get out of the Big 12 contract and kill off the league to save the company money.
Thankfully, it faliled.
So Bowlsby added the best four schools who were not already tied to a Power 5 Conference that he could add in BYU, UCF, Houston and Cincinnati. He added a national brand out west in BYU, a school in the heard of SEC country in UCF, one in the heart of Big Ten country in Cincinnati, who also just made a College Football Playoff, and another school in Houston, based in a Top 5 market and in the state (Texas) that has always been the conference's hub.
It was a home-run few weeks for Bob Bowlsby and the Big 12 Conference. And they moved quickly.
Now should Bowlsby and the Big 12 have expanded earlier? I don't think it would have mattered. Remember the issue at that time was that the Big 12 would then have had to split the pot of money with more teams who were unlikely to carry their weight from a revenue perspective. Did Texas or Oklahoma ultimately want to share that money?
The answer at the time was believed to be "no". So the league did not expand.
And even if it did, would any of the four new schools coming in, or anyone else in college athletics for that matter, have changed what Texas and Oklahoma ultimately decided to do? That sure seems highly unlikely.
Limited Mistakes
My biggest gripe with Bowlsby's leadership is that the conference tried to get away without a conference title game for too long. It arguably cost the league a spot in the inaugural College Football Playoff when Baylor and TCU got squeezed out.
Also, the league was not quick enough to embrace and really push the "One True Champion" mantra, as the only league that was playing a true round robin in football. I was discussing that on my Big 12 podcast seven years ago.
But, they got their eventually.
Bowlsby's Legacy
So when we look back on Bob Bowlsby's legacy as Big 12 Commissioner, it should be viewed at as overwhelmingly positive. He seemed to have the respect of all 10 members, until Texas led the way in doing what it's always done, and that's look out for Texas. And I'll repeat for the Texas fans, I'm not sour grapes about it. This is capitalism in big-time college athletics.
But you can't put any of it at the feet of Bob Bowlsby. And when it was time to move, and move quickly, he did that and he saved the conference.
That will be Bob Bowlsby's legacy.