Oklahoma Sooners
Brent Venables Challenges OU Fans: 'If Best is the Standard, That's What Our Players Deserve'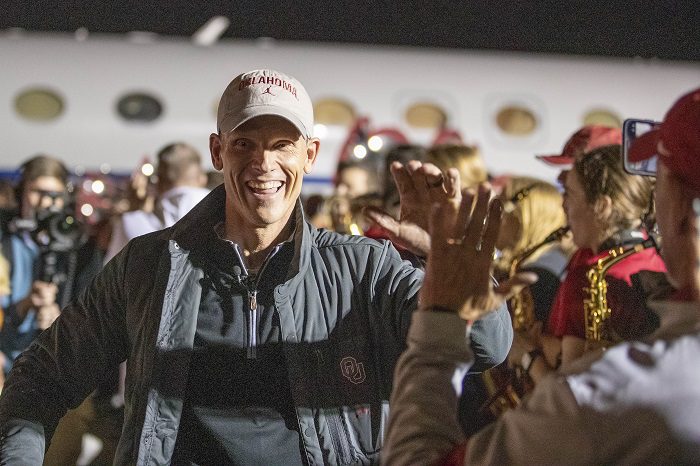 Brent Venables exudes passion wherever he goes and if you keep up with Oklahoma football you have come to realize that by now.
Everything the man does is done with uncommon passion and intensity, and that is what he requires of his players, coaches, and even his fanbase at Oklahoma.
During a press conference on Friday, Venables again challenged Sooner Nation to show up in droves to the Spring Game in two weeks. But it wasn't just a, "hey come on out and watch us, it'll be fun" type of challenge. It was intense. Take a listen for yourself.
"I know what the expectations are in that stadium," Venables said, pointing toward Owen Field. "That's why my expectations from the fans and administration are no different than my expectations for players and the coaches. If best is the standard, then that's what our players deserve.
"Everybody has a part; everything that we do matters in this program. How we show up on the spring game matters. We're going to have recruits here; it matters. [If] our players are going to bust their tails for this place in September, October, November, December, and January then we expect the best from everybody else. Supporting the program the right way.
"It doesn't matter what the temperature is, what time it is, where the sun is during the day, what were doing if we have a halftime show or not, if we're road or away, what uniforms we're wearing. None of that stuff matters. Show up. How we show up matters. Send a message. If you want to talk about this program being one of the most traditional rich and best programs in the history of college football, then show up with some pride on the 23rd."
Oklahoma's spring game is scheduled for 3:00 p.m. CT on April 23 and is expected to unveil Baker Mayfield's Heisman statue during halftime.
It's hard to remember a time when the head coach at Oklahoma was pressing Sooner Nation this hard about showing up, but with how passionate the fan base is, I would guess they'll respond in a way that pleases Venables.