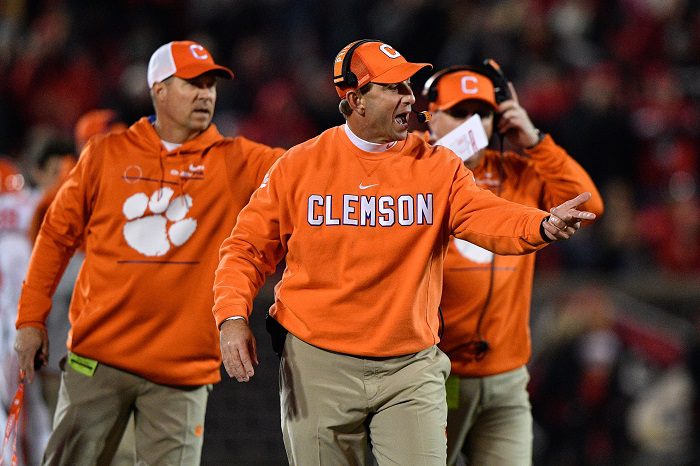 Just one week after Mike Gundy predicted that one 30-team Super Conference could eventually be created in college football, one of the few coaches more successful than Gundy is echoing similar thoughts.
Gundy told SiriusXM's Dusty and Danny last week, "I think there could potentially be a cutoff where football tries to branch off and take the top 30 teams in the country is somebody's opinion. That somebody would be television. Because they're funding everybody's athletic department through television money. So, if you get to that point and you want to make that cut to the top 30, I personally don't think that's good for college football, but I don't make those decisions."
Those comments are a near carbon copy of what Swinney told ESPN this week, saying, "I think there's going to be a complete blowup … especially in football, and there needs to be. I think eventually there will be some type of break and another division. Right now, you got everybody in one group, and it's not feasible. Alabama has different problems than Middle Tennessee, but we're trying to make them all the same and it's just not. I think you'll have 40 or 50 teams and a commissioner and here are the rules."
Swinney added the current system is a "mess" and that it's hard to get anything accomplished as college athletics is rapidly changing. He did add he's not against Name, Image and Likeness benefits for student-athletes, but that he doesn't want anything that "devalues education".
"There's no rules, no guidance, no nothing," Swinney said. "It's out of control. It's not sustainable."
Clearly, the rapidly changing landscape is not working out for the coaches or the sport. Fans are only seeing a little bit behind the curtain, but when two of the most prominent coaches are speaking up this emphatically, it's time for the NCAA to get it's act together.
Yes, that last line was a joke. The next time the NCAA gets its act together will be the first. Heck, the President is too busy calling KU the Kansas City Jayhawks.