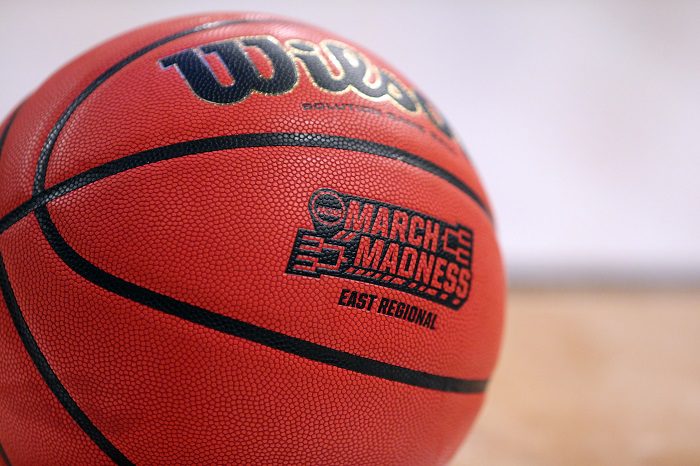 Unlike other professional sports leagues, the National Basketball League (NBA) requires that all players must have finished high school at least one year ago before they play.
This forces even the most talented young basketballers to do something else before being drafted to play in the NBA. Although some head to Europe and other overseas destinations to start playing pro ball instantly, the majority stay in the US and go on to play college basketball first.
Of course, college teams receive much more attention and funding than colleges sports teams in other parts of the world, which is why you can even bet on college sports. If you want to place a bet on a college basketball game, check out the latest NCCA betting odds first.
So, if many of the future NBA stars are playing college basketball, it begs the question: Which college has produced the most NBA players? 
Colleges with the most NBA players
#1: Kentucky
Kentucky College is the most prolific school to create NBA careers. At the time of writing, nearly 80 of their college basketballers have gone on to represent an NBA team. The college can boast the start of the careers of Antoine Walker, Cliff Hagen and Dan Issel, among others. And current players that came from Kentucky include John Wall, Rajon Rondo, Anthony Davis and other players who could become some of the game's greats.
#2: UCLA
UCLA is close behind Kentucky for the #1 spot, with 76 of its college ballers representing an NBA team and playing at least one game. The most exciting player to come out of UCLA is arguably Kareem Abdul-Jabbar. But we should also give a mention to players like Gail Goodrich, Reggie Miller and Kiki Vandeweghe, who also represented UCLA. 
#3: North Carolina
North Carolina edges Duke on the number of NBA basketballers produced with 62. They also have the honour of stating they created the greatest of all time, which is still up for debate. Yes – Michael Jordan played for North Carolina before setting the NBA alight with his talent. They had their best NBA output during the 80s and 90s, and lots of other stars came from North Carolina.
#4: Duke
Duke might not have produced more NBA players than the previous three, but they're up there when building the most NBA successful careers. Elton Brand, Grant Hill, Carlos Boozer and Christian Laettner all came from Duke campuses. In fact, since the turn of the century, Duke has managed to send a staggering 25 of its players to NBA teams.
These schools have produced the most, but it doesn't necessarily mean they make the best. Some of the greatest basketballers of all time, such as Patrick Ewing, Oscar Robertson, Shawn Marion, Ervin Johnson and many more, all played ball for other colleges before dominating in the NBA.