Baylor Bears
Big 12 Baseball: Texas Tech, West Virginia Complete Sweeps While Texas and Oklahoma State Take Series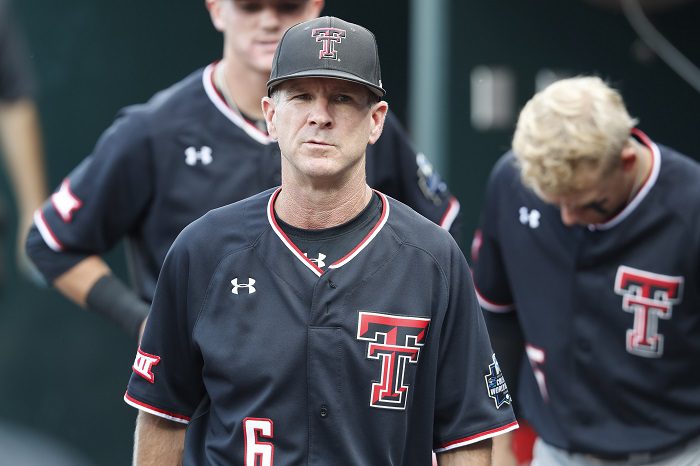 We are in the eighth full weekend of the season as all nine Big 12 teams (sorry Iowa State) are back in action on the diamond this weekend. There are several big-time matchups around the conference and here is what happened in the Big 12 on Sunday.
Notable Games
#6 Texas Tech: 7 Kansas State: 6
The Wildcats got out to a quick 3-0 lead after a pair of homers by Nick Goodwin and Dominic Johnson but that didn't phase the Red Raiders at all. Texas Tech would battle back throughout the game despite giving up more runs to Kansas State throughout the game. Cole Stilwell and Ty Coleman helped pull the Red Raiders within a run in the seventh inning, but Kansas State would add an insurance run in the ninth with another key hit from Nick Goodwin. But it was Texas Tech who had the last laugh in the bottom of the ninth. In the final three outs, Zac Vooletich hit a solo homer before Jace Jung's two-run bomb walked it off for the boys in Lubbock. With the win, Texas Tech completes the three-game sweep over Kansas State.
#7 Texas: 7 #23 TCU: 3
These two teams would trade runs early on as TCU's Tommy Sacco continued his great weekend while Ivan Melendez went yard again for the Longhorns. The game started turning in favor of Texas in the seventh inning when Doglas Hodo and Melendez brought in a couple of runs to give Texas a comfortable 5-2 lead. TCU would respond with a homer run from Brayden Taylor, but it wasn't quite enough to knock off the Longhorns in Austin. With the win, Texas takes the series against the Frogs, and I am going to be interested to see if TCU is able to stay in the top 25 after dropping the series.
#6 Oklahoma State: 9 Oklahoma: 4
While the first two games of this series were nail-biters Sunday's matchup was not. Oklahoma State got off to a commanding 6-0 lead over the Sooners and never looked back as Nolan McLean three-run bomb got the party started. Also, Oklahoma State pitcher Bryce Osmond played well as he kept the Sooners in check. Oklahoma was able to add three runs later in the game, but it wasn't enough for them to get back in it as Oklahoma State takes the Bedlam series.
West Virginia: 7 Baylor: 5
I am no longer concerned about this West Virginia team because they absolutely took it to Baylor yet again on Sunday afternoon. They got off to a hot start scoring six out of their seven runs in the first two innings. McGwire Holbrook had a pair of key hits along with Victor Scott, Braden Barry, and Dayne Leonard. West Virginia was able to hold onto that lead despite a fourth inning surge from Baylor where they were able to put up five runs to make it one run game. However, the Mountaineers were able to hang onto their early lead and even added another run in the sixth inning as Austin Davis went yard. With their Sunday win, West Virginia completed the sweep over Baylor and the Big 12 may need to be put on notice because this team is for real.
Other Games
Kansas: 10 Illinois State: 5
Give it up for the Kansas Jayhawks who won their first three game series since the start of the season and completed their first three-game sweep of the year. They scored a total of 29 runs in their three games against Illinois State.