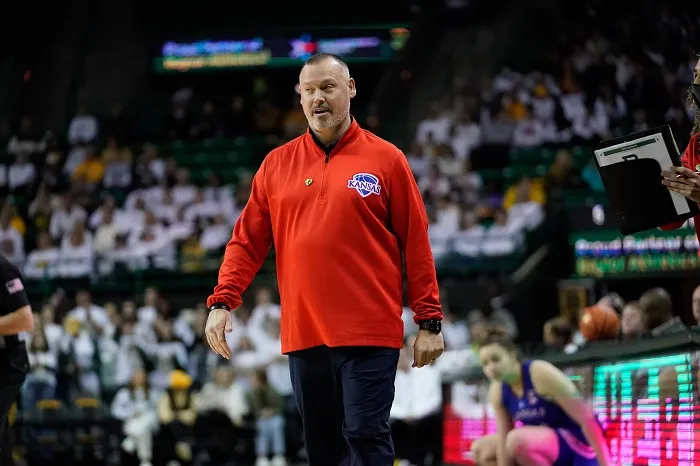 The Kansas Jayhawks' women's basketball season is done. Here are five thoughts about the 2021-22 season and what's ahead for the basketball program.
The Season
It turned into a banner year for the Kansas Jayhawks, and they sent a signal that it would be that way with a win over Texas in Austin early in Big 12 play. At one point in late January and February, Kansas won seven straight games, solidifying it as an NCAA Tournament team. The Jayhawks ended the regular season as the No. 4 seed in the Big 12 Tournament and reached the NCAA Tournament as an at-large team. The Jayhawks beat Georgia Tech in the first round before losing to defending national champion Stanford. But, by season's end Kansas was in the NCAA Tournament for the first time in nearly a decade, won 21 games and helped head coach Brandon Schneider to a new contract extension.
Who's Leaving?
Kansas didn't have a single super-senior listed on its roster. Erica Haynes-Overton, Aniya Thomas and Julie Brosseau were the only seniors or graduate students. Haynes-Overton and Thomas are in the transfer portal. Brousseau, a graduate student, is out of eligibility.
Who's Coming Back?
Just about everyone else. That includes Kansas' top four scorers from last eason — Holly Kersgieter (13.4), Zakiyah Franklin (12.0), Ioanna Chatzileonti (9.9) and Taiyanna Jackson (8.9). Jackson emerged as one of the Big 12's best shot blockers and earned a place on the league's all-defensive team. Kersgieter was All-Big 12 Second Team. There's also Chandler Prater and Katrine Jessen, both of which played more than 10 minutes per game last season. Schneider has solid top-end talent, younger players to develop and just one starter to replace (Thomas and Brousseau both started an equal number of games in 2021-22).
Who's Coming In?
Kansas snagged two signees in November — Bella Swedlund (Winner, S.D.) and Zsofia Telegdy (Budapest, Hungary). Yes, the international talent pipeline continues for the Jayhawks. Swedlund is a guard who left Winner High School as its all-time leading scorer. Telegdy is a forward playing in Georgia who has international experience with the Hungarian women's national junior team.
What to Watch For
Kansas will keep an eye on the transfer portal, but the Jayhawks looks full on scholarships at the moment. This summer is all about developing talent and taking players like Kersgieter, Franklin, Chatzileonti and Jackson to the next level. Kansas wants to go from being on the outside of the 'Big Three' of Texas, Baylor and Iowa State to being part of the mix.
You can find Matthew Postins on Twitter @PostinsPostcard.