Big 12 News
Texas Tech Leads Three Big 12 Teams in D1Baseball's Top 25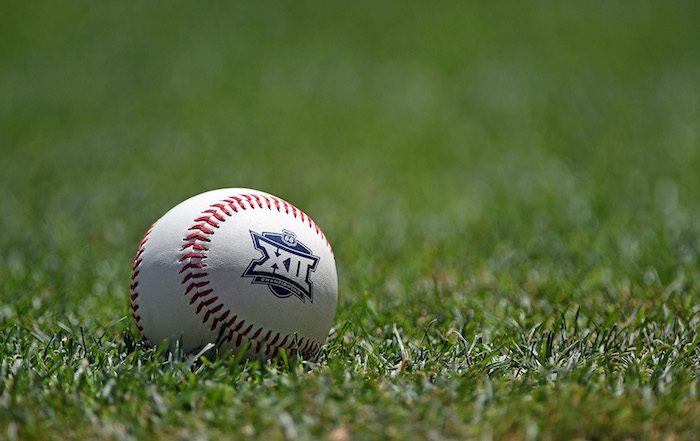 Texas Tech, Oklahoma State, and Texas all made the latest D1Baseball Top 25 Poll and all of them are ranked in the Top 10.
The Red Raiders stayed put at No. 4 after sweeping Kansas State for their third Big 12 series win of the season thus far. Tech outscored K-State 27-9 over the three-game series, including a 14-0 victory on Saturday. TTU will face Oklahoma in a 'nonconference' neutral site matchup before heading to Fort Worth for a weekend series with TCU, who dropped out of this week's poll.
Oklahoma State climbed one spot to No. 5 after securing a Bedlam Series win over in-state rival Oklahoma. The Sooners took Game 1 8-7, but the Cowboys rallied for an 8-7 victory in game two and a 9-4 victory in the rubber game on Sunday. OSU will host Wichita State on Tuesday and then will head to Morgantown to face West Virginia.'
Texas, the top team in the country coming into the season, held firm at No. 7 this week after a series win over TCU. Texas won Game 1 of the series 2-0 before falling in Game 2 by a score of 7-5. The Longhorns pulled it together in Game 3 and came out on top in the series with a 7-3 victory on Sunday.
Three of the top seven teams in the country reside in the Big 12, more than any other conference nationally. The ACC has four in the Top 10, just besting the Big 12's tally.
Here is a look at the entire D1Baseball Top 25:
Tennessee (31-1)
Miami (26-6)
Oregon State (24-7)
Texas Tech (27-8)
Oklahoma State (23-9)
Arkansas (23-7)
Texas (24-10)
Virginia (26-6)
Louisville (23-8)
Notre Dame (20-5)
Southern Miss (23-8)
UCLA (22-9)
Georgia (24-8)
Gonzaga (21-8)
LSU (23-9)
Dallas Baptist (21-10)
Auburn (22-10)
Connecticut (24-7)
Texas State (24-9)
Arizona (22-10)
Virginia Tech (20-8)
Stanford (17-10)
Florida (21-11)
Alabama (21-12)
Ole Miss (19-12)
Dropped Out: Vanderbilt, Florida State, NC State, North Carolina, TCU
New to Poll: Auburn (17), Virginia Tech (21), Stanford (22), Florida (23), Alabama (24)