Baylor Bears
Dave Aranda on Turning Down Other Jobs: 'I Feel Comfortable Here'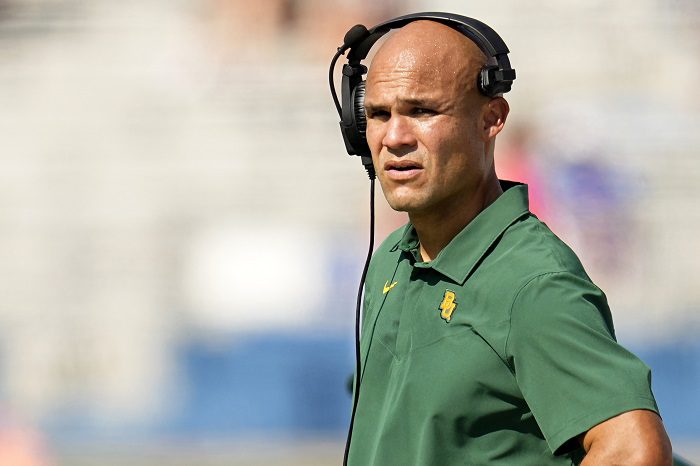 After leading the Baylor Bears to a 12-2 record and a Big 12 Championship in just his second year at the helm, head coach Dave Aranda had no shortage of opportunities to find his way out of Waco and into another program after the 2021 season.
Instead, he signed a contract extension to stay right where he is through the 2029 season, and from the sounds of it, it was an easy decision for the 45-year-old coach.
"I feel comfortable here, I think it has taken me a while to feel comfortable," Aranda said during an interview on SiriusXM Radio. "There's been a lot of growth for me and I hope that gives our players the ability to (realize that) not everything has to be perfect and certainly nothing's going to be perfect when you're getting out of a comfort zone. I would not want to coach if it wasn't for the character development and for the 'hero's journey so to speak, I mean those are the things that are most important to me."
After winning a national championship with LSU in 2019 as the Tigers defensive coordinator, Aranda took the Baylor job ahead of the 2020 season and went 2- 7 in year one before turning things around in 2021 and leading the Bears all the way to a Sugar Bowl victory over the Ole Miss Rebels.
Aranda's leadership and compassion have permeated throughout his team, and Baylor athletic director Mack Rhoades knows how lucky BU is to have Aranda as their guy.
"I am incredibly grateful for Dave's outstanding leadership of our football program and student-athletes through his commitment to Preparing Champions for Life," Rhoades said after extending Aranda. "Dave has brought unprecedented success to our football program both on and off the field. He has brought tremendous national exposure and acclaim to our institution and the greater Waco community. We look forward to the future with Dave, his wife, Dione, and their children and the continued growth of our football program, student-athletes, and fan support under his exceptional leadership. Dave is, without question, one of the most brilliant minds in college football across the country."
Rhoades isn't the only one that can see Aranda's genius, as recruits are starting to take notice as well. It's still very early in the process for 2023, but Baylor's class currently ranks sixth in the country, a far cry from 41st in 2021 and 36th in 2022. Aranda is one of the brightest minds in football, and if he starts to stack talent in Waco, watch out.