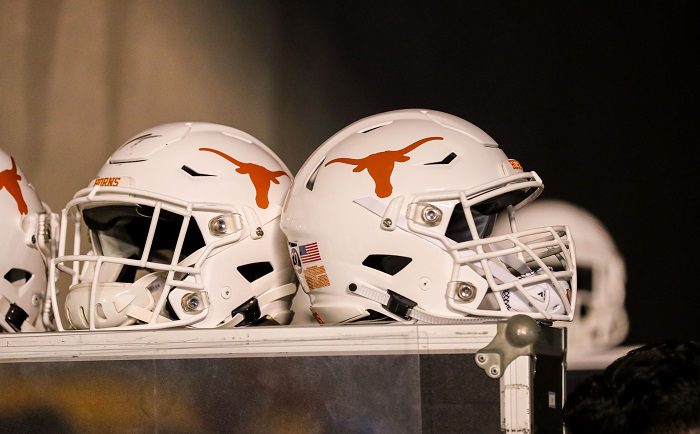 Last week, Texas senior defensive lineman Moro Ojomo made headlines with some comments concerning the state of the Longhorns' program in recent years.
On Thursday, Ojomo was asked to elaborate on his comments about only a couple of guys on the team receiving his message, and whether or not the team listens to him as a leader.
"They're 18-to-22-year-olds that want to chase women, want to chase money, want to chase alcohol and they don't see the future," Ojomo said. "They're very distracted by what is in front of them. it's such a hard thing, especially guys that haven't been in a winning culture. That's why it's very easy for a lot of these powerhouses to keep going, because it's established. The new guys just come in and they're like, 'oh shit, this is how we do have to do it. Oh shit, this is what we do.' It's so much more difficult.
"They always talk about coming here and changing stuff. Coming here changing stuff, like it's ingrained. You're uprooting, what? 10 years of shit that's just been let go and go by. They're more worried about being on Sixth Street than, like, balling and making $50 million as crazy as hell. I don't know why.
Ojomo went on to talk about how the culture change at Texas would happen and what needs to change in order for Texas to be "back."
"Players have to make a stand, " Ojomo said, "basically [say] 'enough is enough'. 7-6 B.S. [at] Texas isn't happening anymore. We have the ability. We have the talent. Get your mind right. We're gonna go win."
He's right; there isn't a good reason for Texas to have an 83-67 record since 2010. As profitable and recognizable as the Texas brand is, they have found a way to underachieve in nearly every year over the last decade and Ojomo is deadset on his class being the one that turns things around for the Longhorns.
Unfortunately for Ojomo, he may have been a bit brash for his head coach's liking.
On Tuesday, Steve Sarkisian discussed his distaste with Ojomo's comments and how things should've been handled differently.
"You know, culture is always challenging," Sark said during media availability on Tuesday. "Culture is organic. I think that Moro [Ojomo] would be the first to tell you that he'd love to have some of the things he said back.
"We have to be careful to speak about everybody when maybe there's an isolated one or two guys that are having issues. Preferably, I would like for our guys to speak about what they're doing, what's their buy-in, and be careful speaking on what others [are doing] and where they're at.
"It's a little disheartening that one guy makes a statement, and ll of a sudden we've got a team full of guys that like to do things outside of the program that we don't adhere to, and that is unacceptable, but it was said and it was written, so, that's okay. What we do internally, what we do in-house is more important to me."
Sarkisian was then asked how he felt about Ojomo's comments and his desire to have a player-led team.
"I thought the forum was really poor, he should not have done that in public. [With] a really good player-led team, those issues get taken care of in the locker room, get taken care of in the meeting room. If you're really a family, you don't go out and talk about family business. You take care of things internally.
"I think [Ojomo's] intentions were right, but the delivery and the forum that it was used was poor. In the end, you have to make sure you mow your own lawn first. You gotta make sure your own house is in order first, before you start to discuss what somebody else is doing, or how they're doing it.
Finally, Sarkisian was asked if he would discipline Ojomo for his comments, to which he answered quickly, "He won't be talking to you guys for a while."
From an outside perspective, I can see where both sides are coming from. Sure, Sarkisian doesn't want the team's dirty laundry out there for the world to see, but from Ojomo's perspective it sounds like things behind the scenes still need to change. Either way, Ojomo was speaking from the heart about turning the Texas program around, and it's hard to argue his logic given recent events.