featured
Is 2022 The Year That Texas Tech Baseball Wins it All?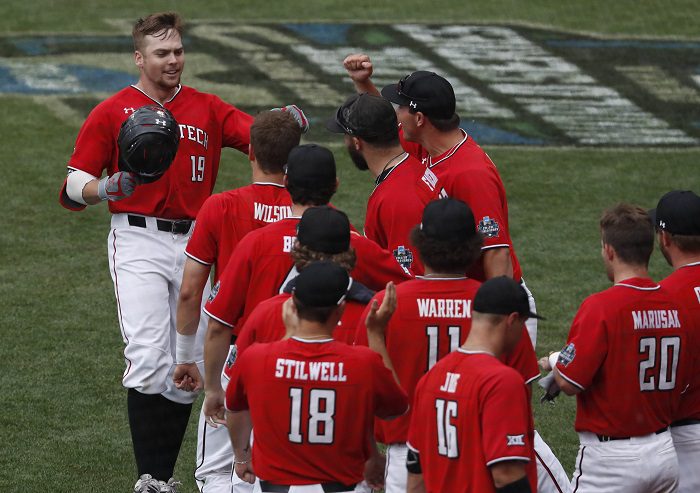 When Tim Tadlock took over the Texas Tech baseball program in 2013, he had some work to do. The program wasn't trending in the right direction prior to his arrival. Longtime coach Larry Hays called it quits after 22 years in Lubbock back in 2008 and then it was up to Dan Spencer to get the program back on track. As we all know, that didn't happen and there was a ten-year gap between postseason appearances.
That postseason drought streak ended in Tadlock's second season as head coach back in 2014. Not only did the Red Raiders make their first postseason appearance in ten years but they also made their first trip to Omaha in school history. Since that first trip, Tech has had quite the success on the diamond as they would make three more College World Series appearances after that and even won three Big 12 regular-season titles in the process. Like it or not, Texas Tech has been a baseball power over the last decade or so.
Last year's team looked to be Omaha bound once again. After winning all three games in the Lubbock Regional, they were set to square off against Stanford in the Super Regionals at home. While many thought they would take care of the Cardinal, it ended up being a lopsided series as Stanford won the first two games in dominant fashion outscoring Texas Tech 24-3 in those two games.
While they did lose a few guys from the 2021 team, they still had plenty of key pieces coming back, especially on offense. However, with other teams in the Big 12 bringing back a lot of good players, Texas Tech wasn't the favorite to win the conference coming into the season. The Red Raiders were picked to finish third in the Big 12 behind Texas and Oklahoma State. To be fair, I would have said the same because I just wasn't sure about certain areas of this team coming in, while teams like Texas and Oklahoma State had fewer questions to answer. But here we are in mid-April and it would be hard to argue that Texas Tech is the best team in the Big 12 right now.
The Red Raiders are currently sitting with a 7-2 conference record only behind a surprising West Virginia team. However, Texas Tech already has beaten a top ten Texas team in a series and has also beaten Kansas along with a complete sweep over Kansas State.
They were able to do this in large part to their offensive power at the plate. Texas Tech currently leads the entire country in runs scored (341) and is in the top 25 in batting average (.306). They also are second in the Big 12 hitting a whopping 55 home runs so far this season.
Texas Tech has been excellent at the plate this season and the entire lineup is capable of making teams pay. In fact, the Red Raiders currently have six starters who are batting over the .300 mark in Jace Jung, Cole Stilwell, Kurt Wilson, Owen Washburn, Ty Coleman, and Kelly Parker. How many other teams in college baseball can say that right now?
While the bats continue to stay hot what really makes this team such a threat to go far this season is what they have been able to do on the mound. We all knew Brandon Birdsell was going to be the ace of this pitching staff and so far he has done a great job this season. Brandon currently has an ERA of 1.98 which is behind only Baylor's Tyler Thomas for the lowest in the Big 12. He is also in second in the conference in strikeouts as he has struck out 70 batters in just 41 innings of work.
Having an ace like Brandon is comforting but what has really impressed me has been the emergence of Andrew Morris. The junior transfer from Colorado Mesa was named the Big 12 Co-Newcomer of the Week on Monday which marks the second Newcomer of the Week award in the past three weeks. While Morris currently owns a 3.74 ERA for the season in seven starts, he has taken his game to another level over his last five starts with an impressive 2.36 ERA which includes a dominant performance against Texas.
With two solid starting pitchers and arguably the best offense in the entire country, the sky is the limit for this top five Texas Tech team. They still have two huge series left against Oklahoma State and TCU but so far they have looked like the best team in the Big 12 and one of the best teams in the nation. A trip to Omaha looks to be in this team's future but do they have what it takes to bring home a title? I'd say yes.