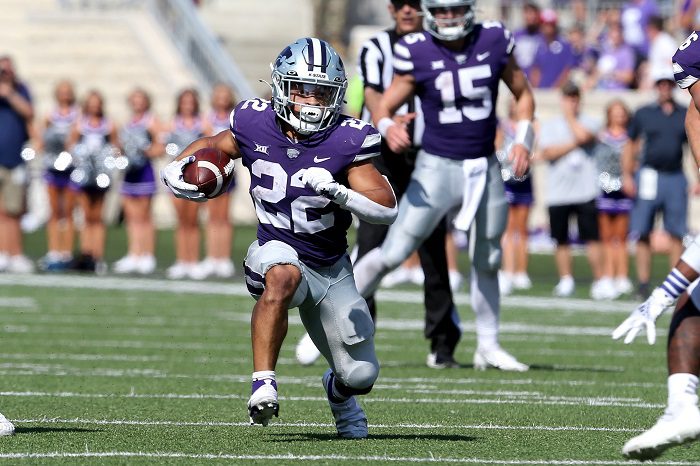 K-State wraps up spring football practice on Saturday and there hasn't been a lot of buzz surrounding the program. Linebacker Branden Jennings, a four-star transfer from Maryland, decided to leave the Wildcats and entered the transfer portal again after only being on campus for about three months. Other than that, there is not much to report.  In any case, I do have some lingering questions about the K-State football team as we head into the summer.
1.) What is the Wildcat offense going to look like?
Throw in a new, although experienced, quarterback in Adrian Martinez, a new offensive coordinator in Collin Klein, along with returning skill position players Deuce Vaughn, Malik Knowles, and Phillip Brooks, and what do you get?  A lot of questions at this point.  How will they all mesh together?  Are the Wildcats going to run the option? Go hurry-up? Ground and pound? My guess is they're going to try a little bit of everything. If they can successfully run the ball and the receivers can get open, this has the potential to be a very exciting, high-scoring offense to watch.
2.) Can the defense dominate?
It will be intriguing watching how the offense evolves, but it's the defense that has me most excited. Felix Aniduke-Uzomah and Eli Huggins are back on the defensive line, Khalid Duke is returning to play some linebacker and defensive end, Daniel Green returns to lead the linebacker corps, and starting corners Julius Brents and Ekow Boye-Doe return, meaning that there are playmakers all over the field.
The Wildcat defense was the third-best scoring defense in the league in 2021, giving up 22.9 points per game, behind only Oklahoma State and Baylor. They were the fifth-best defense in yards allowed, at 370.7 yards per game. If they can improve even slightly over those numbers, I think the team will find a lot of success this fall.
3.) Can this team contend for the Big 12 title?
I waffle back and forth on this question. Baylor and Oklahoma seem to be the prohibitive favorites to win the league, and Oklahoma State and Iowa State are always in the mix. The schedule is not favorable, as K-State will have to travel to Baylor, Oklahoma, and Iowa State. An early non-conference match-up with Missouri will be a good test for this team, and the result of that game may tell us whether they can contend for the championship. This is a team that could win six games, ten games, or anywhere in between. A spot in the Big 12 championship game is definitely on the table, assuming everything goes their way. There are a lot of questions yet to be answered, which makes it impossible to predict at this point, but it's still fun to speculate about. It's been a while since we have been able to talk about K-State football being a serious contender for the league championship, so that is a nice position to be in!
It's t-minus 143 days until the first game against South Dakota on September 3rd. But who's counting?