Baylor Bears
Big 12 Baseball Preview: Red Raiders Head to Fort Worth, WVU Hosts Oklahoma State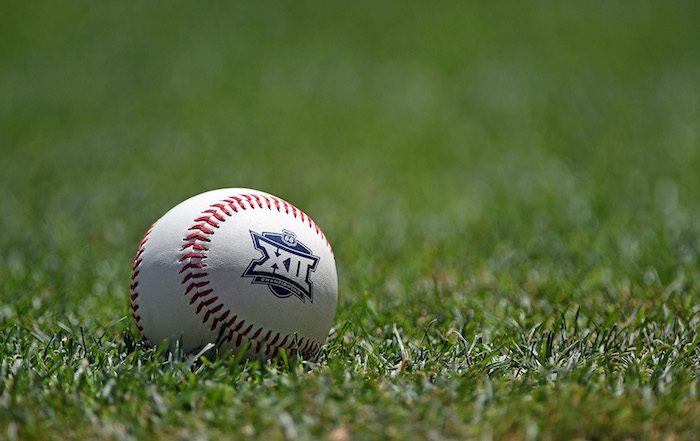 College baseball has moved into the meat of its conference schedule as teams start to figure out where they stand in the conference hierarchy.
Texas Tech holds steady as our top team in the Big 12 Baseball Power Rankings, but will that change with a tricky matchup in Fort Worth?
There are plenty of exciting matchups heading into the weekend so let's take a look at the upcoming schedule.
Notable Games
Kansas State at #7 Texas
Texas has had some close calls over the last two weekends, but they still left Sunday victorious wrapping up their series against TCU. The Longhorns are still right in the thick of the Big 12 title race and are still one of the best teams in all of college baseball. Ivan Melendez and Murphy Stehly are putting up absurd numbers as they are both batting over the .385 mark and have combined for 26 dingers so far this season. But even outside of their two sluggers, their entire lineup is capable of producing at the plate. Of course, it also helps when you have pitchers such as Tristan Stevens and Pete Hanson although Stevens struggled in his last outing.
As for Kansas State, ever since conference play started they have struggled, losing eight out of their first nine Big 12 games. However, they have played a tough Big 12 schedule early on, but it won't get any easier with Texas coming to town. They need the trio of Dominic Johnson, Cole Johnson, and Dylan Phillips to continue their hot bats, but their pitching has fallen off in recent weeks.
#4 Texas Tech at TCU
Out of all the series this weekend, this is by far the biggest. Texas Tech looks to continue its dominance to take control of the Big 12. Tech has been tearing it up at the plate with five starters batting over .300 and it would have been six if not for Parker Kelly's last outing. As good as the Red Raiders have been offensively, their pitching has been excellent as well. Brandon Birdsell is one of the best pitchers in the conference and it has been fun to see Andrew Morris emerge as a solid starter as well.
Tech will need those two pitchers to have great games because while TCU has struggled as of late, they still have some capable bats with Tommy Sacco, Elijah Nunez, David Bishop, and Brayden Taylor. However, against an offense like Texas Tech's, TCU will need some better pitching outside of Riley Cornelio. The Horned Frogs have lost seven out of their last ten games and they need to get things turned around quickly.
#5 Oklahoma State at West Virginia
Outside of the Texas Tech/TCU series, this one is probably the next best. Both of these teams are in the middle of the pack in the conference when it comes to hitting and both are top three in pitching. Each team has an ace on the mound in Ben Hampton (West Virginia) and Justin Campbell (Oklahoma State). Outside of those two, things will be interesting when it comes to pitching. Also, both sides have a trio of solid hitters. There isn't much else I can say other than this should be one hard-fought series that will likely come down to the wire on Sunday.
Kansas at Baylor
It is safe to say that the loser of this series will likely be completely out of the Big 12 race although one could argue that both of these teams are already out of it. Baylor is off to a rocky 2-7 start, dropping series against TCU and Oklahoma before getting swept by West Virginia. Tyler Thomas has been dominant on the mound but outside of that, Baylor doesn't have much. They also have struggled at the plate this season as they carry the second-worst team batting average in the conference.
Speaking of bad batting average, Kansas has the worst in the Big 12 as they are hitting just .260 as a team. Maui Ahuna has been the lone bright spot of this team as he is batting an absurd .453 at the plate. However, baseball isn't a one-man sport and nobody else has really stepped it up this year for Kansas.
Other Games
Oklahoma vs Pacific and Lamar
The Sooners have two opponents this weekend and they should have no issues taking care of business against either one.