Big 12 News
Bob Bowlsby Throws Shade at Former Big 12 Members: 'None of Them Are Doing Better Now'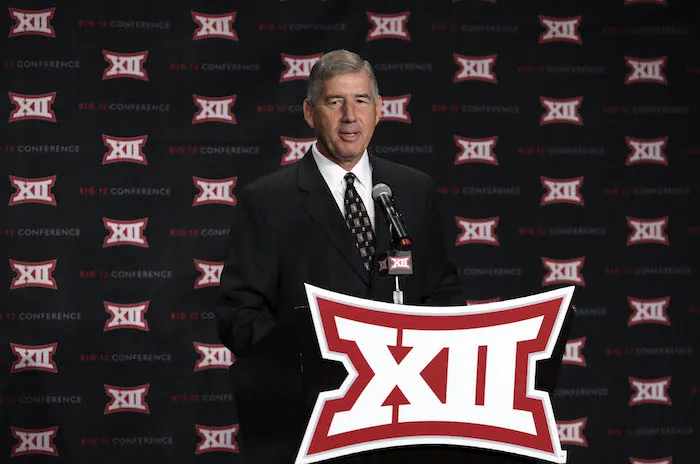 Bob Bowlsby has never been one to mince words, and there have been several times in his career when his words made headlines.
It's rather refreshing to have a public figure of Bowlsby's stature speak freely when asked questions about controversial issues in today's world of college athletics.
For example, when it was announced that the playoff would be expanding until at least 2026, Bowlsby was the first to express his frustration, saying that the administrators responsible for that decision had just "kicked the can down the road." and that every time that they met to discuss the expansion it was like the movie "Groundhog Day."
Last week, Bowlsby made headlines by announcing that he intends to step down as Big 12 commissioner sometime in 2022, after his replacement is appointed. However, that won't stop him from speaking his mind in the meantime.
Now, Bowlby is on the warpath again, but this time he is firing at former members of his conference, according to FootballScoop's Zach Barnett.
This comment persuaded me to take a look at each of the teams that left the Big 12 during realignment from 2010-2013, and see how their football programs have done in the decade since leaving, versus the decade or so before leaving, and here is what I discovered.
| | | | | | |
| --- | --- | --- | --- | --- | --- |
| School | New Conference | Record (2000-Departure) | Record (Departure-2021) | Big 12 Titles | New Conference Titles |
| Nebraska | Big Ten | 94-48 (.662) | 71-64 (.526) | 1997, 1999 | N/A |
| Missouri | SEC | 88-62 (.587) | 69-55 (.556) | N/A | N/A |
| Colorado | PAC-12 | 63-74 (.460) | 47-83 (.362) | 2001 | N/A |
| Texas A&M | SEC | 79-69 (.534) | 85-41 (.675) | 1998 | N/A |
Just as Bowlsby said, the only school that has fared better in their new conference is Texas A&M, while every other team experienced a decline in winning percentage, namely Nebraska and Colorado. It is worth noting that none of the schools, not even Texas A&M, has won a conference title since joining their new conferences.
In fact, Missouri (2), Nebraska (1), and Colorado (1) are the only teams to have appeared in their new conference championship games, but none of them were able to close the deal.
While football is only one data point, it is the biggest money maker for athletic departments and in the case of football, most of the teams that left the Big 12, are in fact, worse off.