featured
Bob Stoops: 'I'll be Surprised if We're Not a More-Physical Team' Under Brent Venables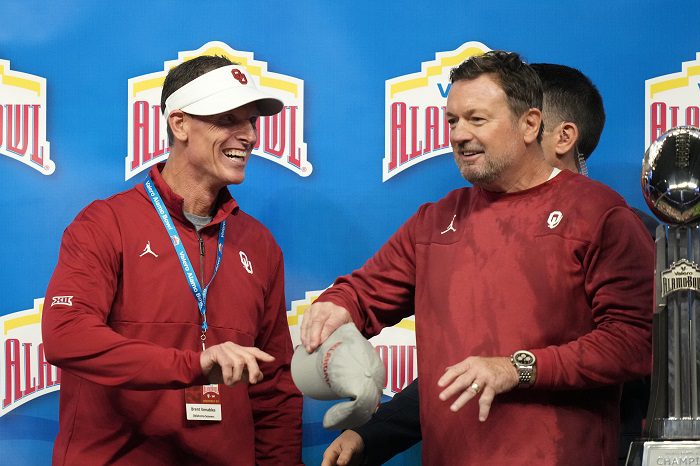 Legendary Oklahoma coach Bob Stoops was brought in to help clean up the mess that Lincoln Riley left when he left for Los Angeles back in November of 2021. Riley took with him a host of defensive coaches, to the delight of Oklahoma fans everywhere that watched Oklahoma continually struggle on that side of the ball.
Then, one week later, athletic director Joe Castiglione offically hired another Stoops pupil, Clemson defensive coordinator Brent Venables. The differences between Venables and Riley have been documented in detail, and Stoops isn't blind to the stark contrasts in style. He knew that Venables was the best man for the job, and that it would take a special coach to keep Oklahoma at the top of the college football pecking order.
Now, a few months into the Venables era, Big Game Bob is very happy with what he is seeing from his protégé.
"I love what I see — the energy, the toughness, the hitting," Stoops said Wednesday on WWLS-FM's The Middle of the Day Show in Oklahoma City. "We've had a ton of full-go tackling, and the guys are into it. They love the way they're being coached, and we're all making really strong improvements. And Dillon Gabriel's the big question coming in with quarterback, and I think he's going to do great. He's had too much success, and Jeff Lebby's had too much success, for that not to happen. So I really believe they'll take off and do well there, and really believe our defense will keep improving. Again, just newer players — the way they've been practicing and hitting, I'll be surprised if we're not a more-physical team."
In a Brent Venables led practice, there isn't much "thud" tempo, where players stop after they make contact. No, it's important to get full reps, from pre-snap reads to getting the ball carrier to the ground. One full sequence can teach players so much, and Venables knows the value of spring time after 30 years of experience. Plus, when your defense gets to practice agaisnt a mind like Jeff Lebby's, and a tempo offense ran by Dillon Gabriel, who is very familiar with Lebby's system, it give the defense a sense of urgency on every snap.
Last week during Venables press conference, a reporter asked if the Sooners defense had caught up to the offense yet.
"Well, it needs to," Venables replied. "I mean, it creates a sense of urgency about all the pre-snap procedural things from the sideline to the field to the communication to getting lined up, again with urgency. I love it. I love all of it, because it challenges things that in some ways are out of your control as a coach. And the players need to buy into my pre-snap procedures, you know, stance, alignment, assignment, key, and to me the challenge every day, every play is to take away something to neutralize something that they want to do or they view as a strength."
In Venables' mind, the game of football is about having the right mindset; a mindset that every play is a battle and the most physical, and technical, player will prevail. That's why his team practices with such intensity and tempo: he is creating a game-like atmosphere.
"And as I challenge both sides of the ball and challenge offense, because that's great and you know they can get to a pace where the next thing you know, they're dragging people up and down the field, OK, and making them quit," Venables said. "That's the goal. That's the mindset. You want to taste blood. You want to go for the jugular. That's what the game is about. But you can't rely on that as the answer. To me, the answer is fundamentals. It's technique. It's mindset. It's physicality."