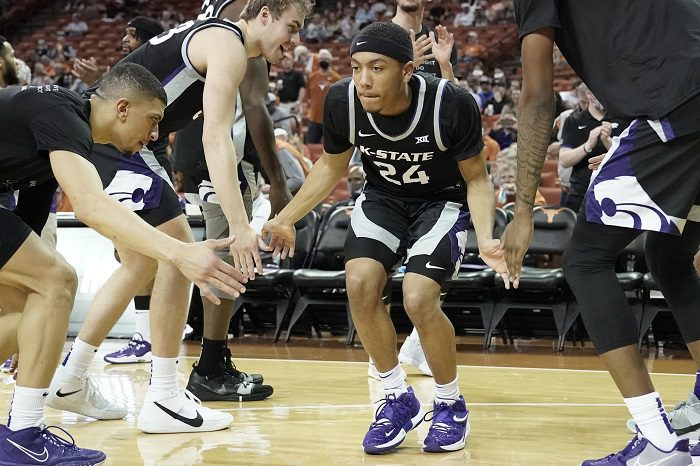 Nijel Pack tops the list of the Top 50 players in the men's basketball transfer portal, as the All-Big 12 First Team pick continues to make the rounds looking for a new home.
A horde of schools are interested in Pack, who averaged 17.4 points, 3.8 rebounds, 2.2 assists per game last season. He's already visited Purdue and Miami (FL) and is working to schedule a visit with Ohio State.
The staff at 247Sports.com put together the list.
Along with his scoring ability, Pack has three years of eligibility and is also testing the NBA waters while looking for a new home.
Other Big 12 players made the list, too. Former Texas Tech guard/forward Terrence Shannon Jr. was No. 6 after averaging 10.4 points and 2.6 rebounds last season as the Red Raiders reached the Sweet 16.
Texas Tech forward Jaylon Tyson was No. 9. Tyson transferred from Texas to Texas Tech earlier this year.
Joe Bamisile came in at No. 29. The former George Washington guard is headed to Oklahoma after averaging 16.3 points and 5.0 rebounds last season. He's the highest-ranked transfer to a Big 12 school on the list.
Former West Virginia forward Jalen Bridges, who averaged 8.4 points and 4.8 rebounds last season, is No. 31. He's already visited Alabama and has a visit coming up with Baylor next week. He also has his eye on Michigan State. His former teammate, Sean McNeil, is No. 33 after averaging 12.2 points last season.
Former Oklahoma State forward Keylan Boone is the final Big 12 player in the Top 50, coming in at No. 47. He averaged six points and 3.3 rebounds last season.
Big 12 2021-22 Transfer List
(Out: after 2021-22 season; In: for 2022-23 season; new/old school in parenthesis)
Baylor
Out: F Dain Dainja (Illinois)
Iowa State
Out: F Tristan Enaruna, C Xavier Foster, F Blake Hinson, G Tre Jackson (Western Carolina), F Javan Johnson (DePaul), G Jaden Walker
In: F Tre King (Georgetown), G Jeremiah Williams (Temple).
Kansas State
Out: F Davion Bradford, F Kaosi Ezeagu, G, Maximus Edwards, G Drew Honas, G Luke Kasubke, F Seryee Lewis, F Carlton Linguard, G Selton Miguel, F Montavious Murphy (Stephen F. Austin), G Nijel Pack**
Oklahoma
Out: C Rick Issanza, G Elijah Harkless, G Alston Mason, F Akol Mawien
In: G Joe Basimile (George Washington),Sam Godwin (Wofford)
Oklahoma State
Out: G Donovan Williams, F Keylan Boone, F Matthew Alexander-Moncrieffe
TCU
Out: G Francisco Farabello, G Cashius McNeilly (Northern Oklahoma College-Tonkawa)
Texas
Out: G Courtney Ramey**, F Jaylon Tyson (Texas Tech)
Texas Tech
Out: G Chibuzo Agbo, G Sardaar Calhoun (Drake), G/F Terrence Shannon Jr.
In: F Jaylon Tyson (Texas), D'maurian Williams (Wofford)
West Virginia
Out: F Jalen Bridges, C Isaiah Cottrell, G Sean McNeil, F Seny Ndiaye, F Taj Thweatt (Coastal Carolina)
In: F Erik Stevenson (South Carolina), G Joe Toussaint (Iowa).
**-Has also declared for NBA Draft but is retaining college eligibility