featured
Texas Tech Basketball: Life After Terrence Shannon Jr.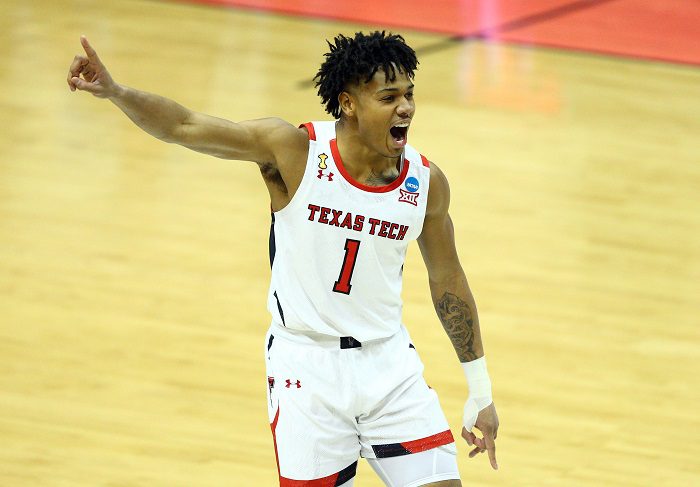 Terrence Shannon Jr. had been a key player for Texas Tech in his three years in the Hub City, but has announced that there will be no fourth year for him. Many Texas Tech fans expected this when the season started, after all, he barely came back for year three after testing the NBA draft process. But it seems like he isn't NBA bound this offseason, rather he's transferring, and is currently one of the highest-ranked players in the portal.
Shannon's 2021 Season was Tough
It was a brutal year for Shannon, as he was initially investigated for eligibility reasons stemming back to testing the draft process that kept him out three games. It didn't get any easier for him after that as he was forced to battle injuries throughout the season. What many expected to be a season that would loft him into first-round pick territory turned out to be one that would see him fall off draft boards. There were signs of frustration for a while, he had a horrible offensive showing on Big Monday at Kansas shooting 1-10 from the field in the double OT loss, though to his credit his on-ball defense also kept Tech in that game. He was criticized for showing a lot of frustration with Mark Adams for calling a timeout with a minute left in a win at Texas, though considering some moments with his former coach Chris Beard in that game it's fair to assume he was more frustrated with his former coach than his current. Then there was some frustration from people close to him expressed on Twitter with his playing time in the second-round win over Notre Dame. It all culminated with news breaking that he was entering the transfer portal before the plane landed in Lubbock following the Sweet 16 loss to Duke. Over the past year, he became a hugely polarizing player for Texas Tech fans, for the reasons above and some ill-advised shots in key moments such as at Providence, and TCU.
His Impact on Texas Tech Will Be Appreciated
But when you look back on his Texas Tech career he has done far more positives for the Texas Tech program than negative. His return to Texas Tech when Chris Beard bolted to Austin, undoubtedly gave the program and fan base a huge boost, not to mention he was vital in getting Kevin Obanor to Lubbock. Despite some frustrations, he showed they never seemed to linger long on the court or in post-game settings. While he was probably rightly criticized for entering the transfer portal before the plane touched down in Lubbock, he then spent the next couple of weeks showing appreciation for his teammates one by one before announcing he wouldn't return to Texas Tech, and after that visited a Lubbock family whose house had just burnt down. While some moments this season may leave a sour taste in some people's mouths this is the new reality of college basketball and him leaving Texas Tech is a business decision, probably one both sides can benefit from. While it's still a bit murky where he'll end up, and some thought he'd join Kyler Edwards in Houston, with Kyler's departure to the NBA, smart money would move to him returning home to Illinois, especially if that's the case no one should fault him for leaving.
Assuming Shannon doesn't enter the draft this offseason he will be 23 years old by the time the next NBA season rolls around, which nowadays is fairly old for an NBA draft pick. Despite having 2 years of eligibility left with the covid year, it's clear that the time for him to find a place that will maximize his offensive potential is now. He's already proven to be an elite defender after 3 years in Mark Adams' defense and after not finding his stride in Adam's offensive system this year, Texas Tech is clearly no longer the place for him to maximize his draft stock. Some will clearly have an issue with him leaving for whatever reasons they do, but any argument that this is a bad decision for his career is just not one that has much standing.
What Will the Red Raiders Do Now?
On the flip side, this break is good for Texas Tech, a team that will also lose Williams, Arms, Warren, and Santos-Silva to eligibility, and Agbo to the transfer portal. But also has three incoming freshmen, and the addition of previous commit now Texas transfer Jaylon Tyson, who plays Shannon's position. Add in the already committed transfer D'Maurian Williams from Gardner-Webb, Texas Tech currently has just two open scholarships to hit the transfer portal with, and for a program that will lose at least 2 key bigs, needs to add shooting, a true point guard, and experience, it's probably better that they trade Shannon for someone that can fit those needs. It seems strange to say that having the second-best player in the portal leaving your team could be a positive, but with how much youth is coming into this Tech team this season, and Mark Adams' success in getting experience out of the portal last season it truly may be one. Add into that the number 3 player in the portal Fardaws Aimaq just put Texas Tech in his top 5, the pain of losing Shannon should quickly shift to optimism. It's the realities of college basketball nowadays, and just like last off-season with every Kyler Edwards that leaves, a Bryson Williams comes in, heck a top 10 transfer Jaylon Tyson already has.
Overall, Terrence Shannon had some great things in his three years in Lubbock, but his junior season, while not disastrous, did not live up to expectations. Both sides probably needed this split, and it was likely more of a mutual decision than just a one-sided one.