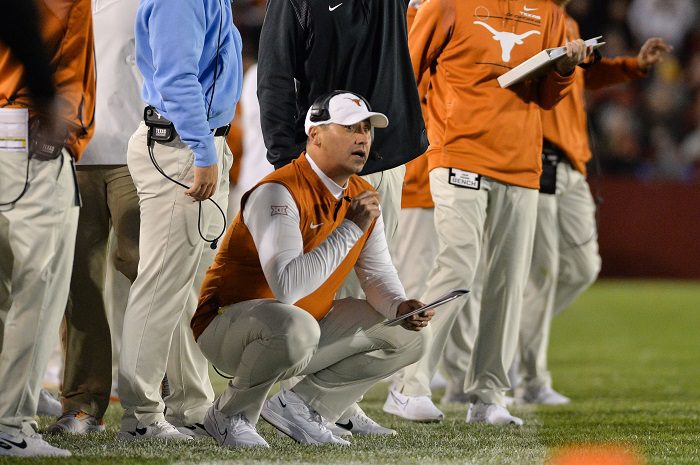 I say it each and every year that Big 12 Media Days is the unofficial start of the college football season. It gives us media folk something to talk about and gather around before the season kicks off. It's a place where coaches from around the conference and players speak with us and share their thoughts on what their team will look like for the year ahead.
It's pretty much the same thing every single year and the only things that truly change are the players and, sometimes, the coaches. But no matter the year, some things never change. Media Days is always held in the Dallas-Fort Worth area in the month of July, where it is typically extremely hot outside, and is a place where everyone buys into the hype of the Texas Longhorns. But wait a minute, it's not even July yet and the Texas hype is already at full speed.
Yes, that is correct, and you can thank none other than our good old pals at ESPN. On Thursday morning, they released their FPI (football power index) and showed the Playoff Predictor. Of course, you have your usual suspects at the top with teams like Alabama, Clemson, Ohio State, Georgia, and a few others. But then sitting at No. 6 you will stumble across an all too familiar burnt orange Longhorn logo.
ESPN gives Texas a 41% chance to win the Big 12 Conference and a 21% chance to make the College Football Playoff. I will now give you a moment to get in a good laugh. You finished yet? Me neither, but it just has me wondering why people continue to do this year in and year out? I have been done with the Texas hype for years now and it seems like each, and every year people find new ways to top it.
I know Texas is probably going to be better than what they were last year with a 5-7 record. They have added some players, most notably quarterback Quinn Ewers from Ohio State, who will likely be the starter this season. However, it is crazy to think that a team who went 5-7 and LOST TO KANSAS last season will be a playoff team this year and has a 41% chance to win the Big 12.
For anyone who truly believes what ESPN is trying to sell us, then I have some oceanfront property in Arizona I would like to show you. If you want to say that Texas will be better than 5-7 this season that's fine, but please don't talk about them winning the Big 12 this year and making the playoff. As a betting man myself, I would say Kansas has a better chance at winning the Big 12 than Texas does making the College Football Playoff.
You can call me crazy for that, but one thing you can't call me is a sucker because I am once again not buying the Texas hype.
Can we please see them actually win big games with consistency before we start crowning them as champions? I am not sure what it is about the University of Texas, but nobody wins the offseason like they do. If they were Texas A&M, they probably would have preseason championship banners everywhere.
All I ask is that some of you take it easy on the burnt orange Kool-Aid. If you drink it before the season, it will usually leave you with a stomachache well before Halloween. Take it from me. I've made that mistake before and I certainly learned my lesson years ago.