featured
Oklahoma State Disrespected, 'Name Brand' Teams Overranked Again in ESPN FPI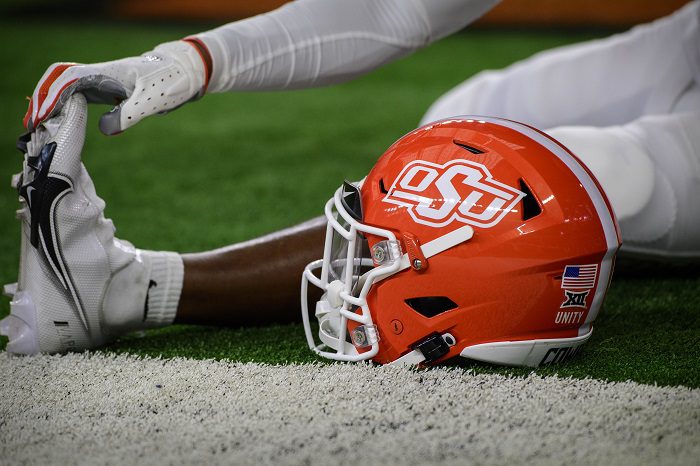 As expected, mass hysteria broke out after ESPN released their early FPI rankings for the 2022-2023 college football season, which takes a bunch of different metrics and estimates how many games each team will win.
Every time a ranking like this is put out, college football watchers flood the poster's comments with vitriol for why their favorite team is too low or why their most hated team is too high.
Death, taxes, and people getting upset over imaginary rankings.
But as I scanned over ESPN's latest FPI rankings, there were some placements I noticed that I couldn't scroll past and move on with my day. Despite being calculated by data and statistics, ESPN's precious FPI doesn't seem to take decades-long past results into account.
Texas, Oklahoma, and Auburn All Overrated
For example, what earthly reason does Texas have for being No. 6? Year after year we are promised by media outlets alike that the Longhorns are back and that this year will be different than the past ten. News flash, it never is and Texas is not back.
Texas returns pretty much the same team that went 5-7 last season and missed a bowl game. Does ESPN really believe that Quinn Ewers will make that big of a difference in Austin when he couldn't beat out CJ Stroud or Kyle McCord at Ohio State?
Some more teams that I believe are ranked unrealistically high at this moment are Oklahoma and Auburn, with the FPI putting the Sooners at No. 8 and the Tigers at No. 10.
OU lost one of the top coaches in the whole sport, taking a large chunk of the staff with him, as well as two starting quarterbacks including Caleb Williams, who was looking to be a star in the making. Not to mention all the guys they lost to graduation like Kennedy Brooks, Perrion Winfrey and Isaiah Thomas.
It seems to me that the Sooners are ranked this high solely because of the brand, as this year's team shows zero indication that it will be better than their 2021-2022 squad, which didn't even reach the conference championship game. Brent Venables could turn out to be a homerun hire, but he is still a first-year head coach having to deal with a near-complete overhaul of the program, so I don't see the reason for hyping the Sooners up this much at this point in time.
With Auburn, their ranking makes even less sense to me. In the past four seasons, the Tigers have finished ranked in the final top-25 AP poll just one time, ending at No. 14 in 2019. Last year they went 6-7 and lost to Houston in the Birmingham Bowl, now ESPN expects us to believe they'll be a top 10 team this season. Why? What could ESPN possibly be basing this off of?
Auburn was one of the biggest losers in regards to the transfer portal this offseason, with a whopping 20 players opting to leave the program for greener pastures. One of those players was starting quarterback Bo Nix, who moved to Oregon. Rotational guys such as Shaun Shivers, Ja'Varrius Johnson, Kobe Hudson and Ro Torrence have also left or are currently in the portal.
Oklahoma State Disrespected… Again
Finally, you know I had to get my Oklahoma State take in at some point. The Cowboys come in at No. 13 in the FPI behind all of the teams mentioned above despite having more ten-win seasons in the past decade than all except Oklahoma.
Mike Gundy has objectively turned Oklahoma State into a top-10 program in college football, yet they are continuously disrespected by ESPN and other outlets who would rather give undeserving teams all of their praise.
OSU narrowly missed out on a playoff berth last season in a season that saw them make the Big 12 championship game and beat No. 5 Notre Dame in the Fiesta Bowl. They lose defensive coordinator Jim Knowles but bring in highly sought after Auburn DC Derek Mason to replace him. Plus, multiple publications have the Cowboys returning to Jerry's World for another Big 12 title run. So why, again, are they No. 13 according to the FPI?
Heck, Baylor, the team that WON that Big 12 championship game against the Cowboys AND return pretty much the same team are ranked No. 19 according to ESPN. Just when I thought these rankings couldn't make any less sense.
My point is, pay absolutely no attention to these preseason rankings. They always end up embarrassingly wrong (with the exception of gimme's like Alabama) and are solely meant to generate traffic for the media outlets that publish them. We can speculate all we want about which team is better or worse than others in the offseason. Realistically, no rankings matter until a few weeks into the college football season, when we at least have a general idea of each team's identity.