Big 12 News
TCU Defensive End Ochaun Mathis Visiting Texas Longhorns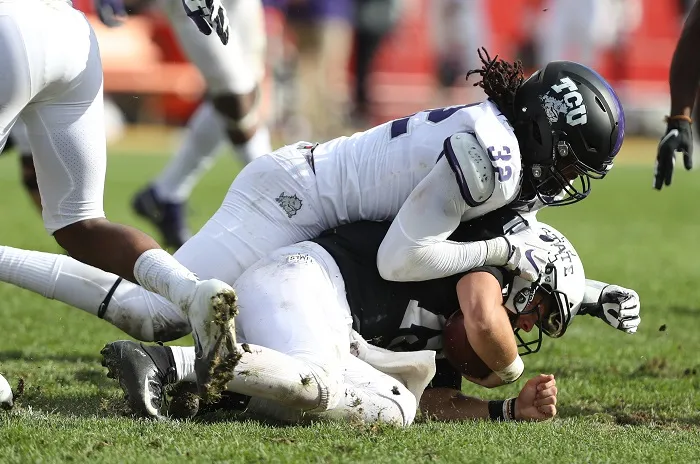 Ochaun Mathis announced on Monday that he would be making his decision to which school he would be attending at the end of the month. The timing of his visit could be key in the Texas Longhorns locking up one of the best pass rushers in the Big 12.
Mathis is in Austin this weekend to visit UT and will take an official next week, according to Geoff Ketchum from OrangeBloods.
There is a connection between Mathis and the Longhorns as Texas hired former TCU head coach Gary Patterson after he was fired during the 2021 season.
Texas has been hitting the transfer portal trying to strike gold and if they were to land Mathis, you could say that they found it. The Longhorns have a significant need to improve their defensive front and Mathis would have the Texas faithful sleeping a little easier going into the 2022 season.
TCU, on the other hand, has to be biting their nails at the thought of having to go against their former defensive stud.
If Texas is able to land Mathis, he would be the second Power Five transfer added on the defensive side of the ball alongside former Ohio State defensive back Ryan Watts, who signed with the Longhorns back in December.
The hype of adding Mathis and pairing him with fellow pash rusher Ovie Oghoufo would have the Longhorns in the preseason headlines and have others questioning is Texas back?
Mathis recorded 45 tackles, four tackles for loss, two sacks, and three passes defended in his 12 appearances during the 2021 season.