Baylor Bears
Big 12 Softball Power Rankings: Sooners Still On Top After First Loss of 2022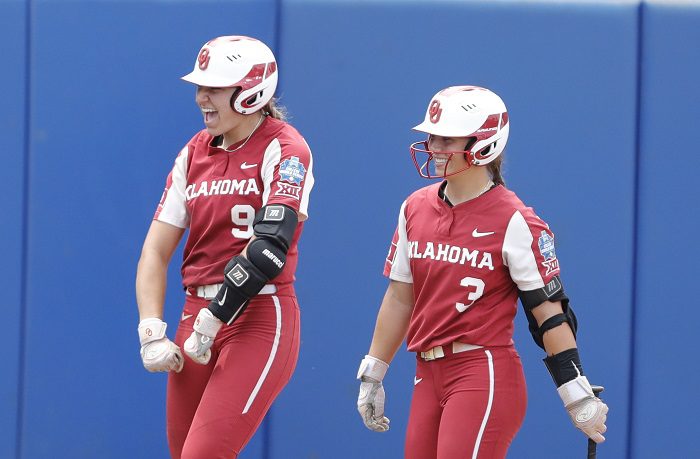 The college softball regular season is entering the home stretch as there are just over three weeks left until the Big 12 Softball Tournament gets underway.
After a huge weekend series down in Austin, Texas, the Oklahoma Sooners have suffered their first loss of the 2022 season, leaving one blemish on an otherwise great weekend. Texas, the team to knock off the top-ranked Sooners, is looking to build off of their Game 3 win and make a run at getting back near the Top-10 for the first time since the beginning of the season.
Meanwhile, Oklahoma State continues to build steam as it prepares for the biggest stretch of its entire season. Starting Friday, the Cowgirls will face Texas, Florida State, and Oklahoma in back-to-back-to-back series that will test their mettle.
The other teams in the Big 12 are fighting for the fourth-place spot at this point, and we have a big riser in the power rankings this week after Texas Tech finished the weekend with a series win over Iowa State that included two run-rule victories.
Here is how the Big 12 Softball Power Rankings look after a big weekend.
Yes, Oklahoma is on a one-game losing streak for the first time in 40 tries, but the Sooners still won the series in Austin, including a 9-1 victory in five innings on Friday. Head Coach Patty Gasso spoke about the Sooners' run-rule victories becoming poisonous to the team, but what about a loss? Gasso-led Oklahoma teams to respond well after losses, and I expect more of the same from a team that might be her best yet. Expect a hungry Oklahoma team heading into the final stretch of the regular season.
Could it be said that Oklahoma State is closing the gap between them and Oklahoma for the top spot? Maybe, but I want to see more before I'm convinced of that. They get a shot at the team that ended Oklahoma's streak this weekend, and if they sweep the Longhorns in Stillwater, it will make for a spectacular Bedlam series in May. The good news is, we will know a lot more about this team before we get there. Texas will likely be a Top-15 team this weekend, and Florida State is among the four best teams in softball. Buckle up Cowgirl fans.
Texas is coming off of its biggest win in years, as the Longhorns downed Oklahoma 4-2 in Game 3 of their series in Austin. However, the Sooners took the series and outscored Texas 14-5 in the process. That is a testament to the toughness of this UT squad, as they are the only team to truly compete with Oklahoma in a series this year, but the Longhorns have one issue: they share the conference with OU and OSU. It's hard to move them any higher than three right now, but I'd bet that Mike White likes the direction his team is headed in the back half of the 2022 season.
Resurrection is a theme used heavily in this part of the country in mid-April, but this time I'm using it to describe the Texas Tech Red Raiders. Last week, I ranked Texas Tech dead last in the conference power rankings after their defeat at the hands of OU. This the climbed into the "bumper spot" at four, with the three teams ahead of them being pretty far out in front, and the three teams behind them being a mixed bag from week to week. This week, Texas Tech made Iowa State look bad, winning the final two games 11-1 and 9-1, and outscored the Cyclones 29-12.
The Baylor Bears handled business this weekend, taking both games against Sam Houston and getting to 22-18 heading into their series with Texas Tech this weekend. A date with UT Arlington on Tuesday could be tricky, but if the Bears can navigate that and get to five games over .500, they will be in a good position going into the weekend. Making the 64-team field is a stretch right now, but sweeping Texas Tech would do a lot to make that more of a possibility.
I am officially done trying to figure this Cyclones team out, as they seem to be a different squad every week. Two weekends ago they are competitive with Oklahoma State and even stole Game 1 in that series., but this weekend against Texas Tech saw them squeak by 10-9 in Game 1 and then proceed to be blown out in Games 2 and 3, by a combined score of 20-2. Could they win 9 of their next 12? Sure, but I'm not banking on it.
Kansas could avoid the sweep this weekend against Oklahoma State and ensured that the Jayhawk will end the 2022 regular season with a losing record. The Jayhawks will likely serve as the seven seed in the Big 12 Tournament next month, barring a miracle in Lawrence. KU does get the weekend off from Big 12 play and will face Wichita State on Wednesday followed by a three-game series against North Texas.