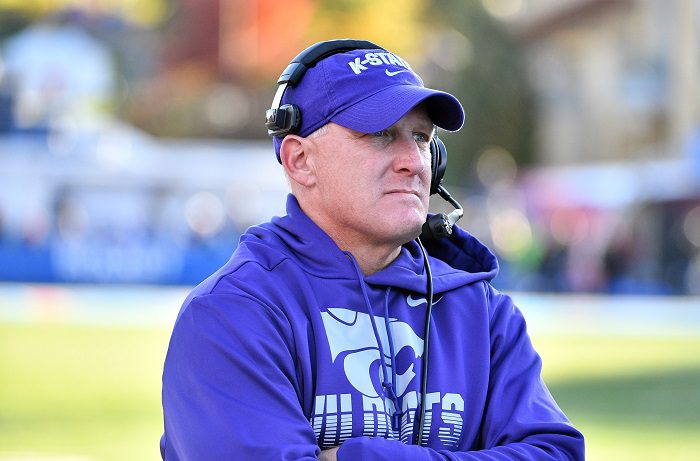 The Kansas State Wildcats saw spring football practice come and go this past weekend without as much as a whimper.
That's because there was no spring game, or even open practice, for K-State fans to attend this year. Now Chris Klieman has never been hot on the idea of a spring game. Since Klieman took over as head coach in 2019, the spring game was replaced by an open practice. As someone who has attended them, they aren't much, but at least they're something to keep the fans engaged.
But not this year. Why? Injuries.
"Due to our situation we have at the defensive line, we're just going to practice (Saturday)," Klieman said last Wednesday. "(It's) probably the least amount of scrimmage that I have done in my time as a head coach from a spring ball session, simply because I think the other day we were down to three defensive linemen."
Understood. But since Klieman has simply done open practices in the past, why can't some die-hard fans show up and watch guys throw and catch fade routes for fun? Why are defensive linemen needed for that?
Build a Greater Connection With Fans
One might argue that it's all a waste of time anyway, but let the fans decide that. We live in an environment where attention spans have never been shorter and the options for sports fans are greater than ever before. Heck, options for all forms of entertainment are greater than ever before.
And when K-State football has a chance to make that extra, important connection with a fan, or a kid, at an open spring practice, that creates a connection beyond anything they can get on their phone or via a streaming service.
Those things matter. And that's how you create not just a more rabid fan base, but also build the next generation of fans.
Coach Klieman went on to point out that he doesn't want to risk the health of his players for a spring game/practice, adding last week, "You've got to be smart. We're trying to get everybody to the summer and everybody to the fall, because you're going to win and lose the spring game no matter what. You're going to be on a winning side and a losing side."
That's true. Chris Klieman's legacy won't be defined by spring games. But once again, fans weren't expecting a spring game. However, if they can roam Bill Snyder Family Stadium on a harmless practice day, what's the downside? If the practice was scheduled to happen anyway, why can't there be some form of fan engagement? We're talking minimal, bare bones, fan engagement.
Looking South
Also, let's compare this to one of the new Big 12 coaches, Oklahoma's Brent Venables.
Venables recently challenged his fanbase to pack Memorial Stadium ahead of their spring game this week, saying in part, "I can't wait to see that passion on display on April 23rd, and my challenge to the fans is to fill up the stadium. As we say all the time inside our walls, 'Best is the standard.' Let's pack the Palace and make it a great day for everyone."
Boy, that's certainly a different approach, no?
Brent Venables comes from Clemson, which despite being in the ACC, is SEC country. He knows what it takes to take something to the next level and having incredible fan engagement now matters in everything from ticket sales to Name, Image and Likeness deals.
It all matters.
College football is changing. NIL, transfer portal, etc., it's all moving faster than we can keep up. Meantime, college football's attendance keeps declining.
Blocking off your fans from a couple hours of potential fun, at no expense to the program, isn't the play in 2022. And if it really takes a couple of defensive linemen to make this happen, grab a couple guys out of the stands. I'm sure they'd be happy to help in a pinch.
Now that would be some serious fan engagement.