Oklahoma Sooners
Spencer Rattler Can't Help But Continue to Take Jabs at Oklahoma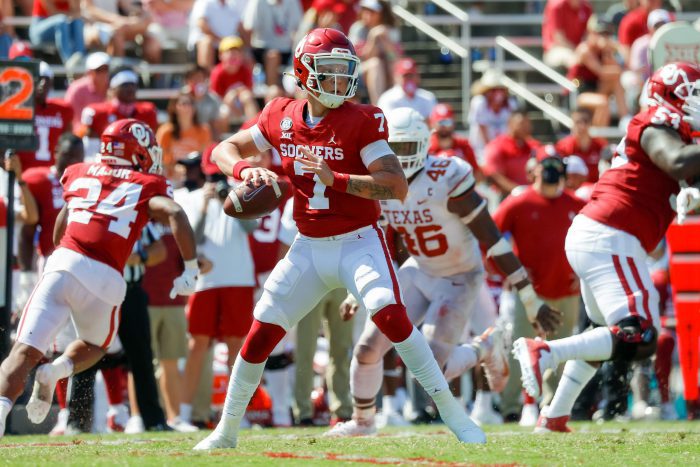 Since leaving Norman, Spencer Rattler has had several things to say, or cryptically tweet, concerning his former home on the Great Plains.
In March, Rattler said that he'd learned more at South Carolina in just one month than he had at Oklahoma in three seasons with Lincoln Riley.
Last week, Rattler went in on Oklahoma and how "toxic" the situation had become in Norman with the Sooners underachieving in a year that they were supposed to be among the nation's best teams.
After some underwhelming wins against lesser opponents, OU fans piled on Rattler as the reason for their team's performance. While he did seem to regress from the 2020 season, it was certainly more about the offensive line in 2021 than Rattler's "regression." However, that didn't stop Memorial stadium from erupting into boos and "We Want Caleb" chants when the Sooners squeaked by West Virginia early in the season. It's no wonder Rattler felt he needed to get out of Norman.
"I was just happy to get away from a toxic situation and get somewhere new," RattIer told ESPN. "Anywhere was going to be better, and I found the right place."
"That will be a story for later," Rattler said when asked to explain what he meant by toxicity at Oklahoma last season. "I don't want to get too in depth with it, but it was out of my control. All I can tell you is that we were undefeated at the time I was benched. We won a championship the year before and were going to win another one. I could go on and on.
"We had a great summer and then once the season started, we had a competitive first couple of games and didn't play up to par. I just feel like we weren't given enough time to jell together during the season. Triggers were pulled too quick, and because of that, we lost two games and didn't win another championship.
"But, like I said, that was out of my control. I gave my all with my teammates and for the real coaches up there."
Now, it sounds like Rattler appreciates a fanbase that is just excited to have a player of his caliber on the roster. When asked what he's enjoyed most, so far, about being in South Carolina Rattler had this to say.
"Just the overall vibe," Rattler said. "Like I said the other day, this city, this town — you can feel the excitement for this team and the love for this team. That's big-time for us. When our fans got our back, we feel invincible. Like I said, great turnout tonight, and made me even happier. Knowing I made the right decision with how loyal these fans are and how happy they were to see us play today."
A loyal fanbase goes a long way and it's obvious that Rattler is happy to be with one in South Carolina. Oklahoma fans had extremely lofty expectations of Rattler going into the 2021 season, and when those expectations didn't come to fruition, things turned quickly. That's the nature of the beast when you play at a place like Oklahoma; if you don't meet expectations, you will be replaced.
It doesn't mean that Rattler isn't an amazing talent, look what happened for Joe Burrow when he transferred to LSU, or what happened for Kyler Murray or Jalen Hurts when they came to Oklahoma. Sometimes a situation just goes sour and it's best to go elsewhere, and in the case of Spencer Rattler, that's exactly what happened.
Unforunately, the situation has left a bad taste in both the mouths of Oklahoma fans and Spencer Rattler and that will likely last for some time.