Big 12 News
Brent Venables Previews Oklahoma's Spring Game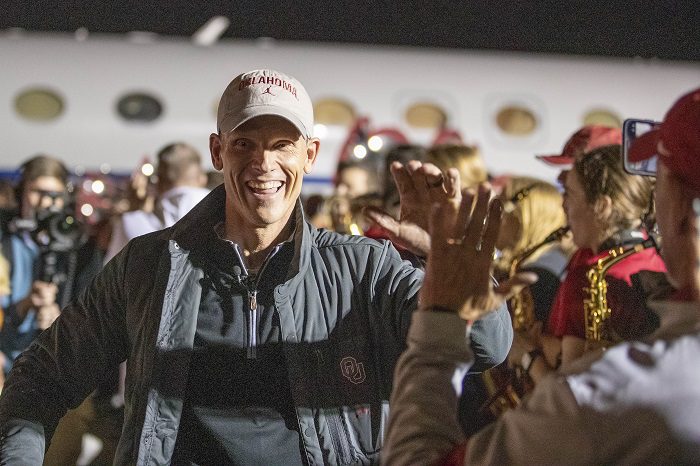 The Oklahoma Spring Game is likely to set a record for attendance this season, with Sooners' head coach Brent Venables continually challenging the fan base to #PackThePalace on Saturday at 3:00 p.m.
In his weekly press conference on Tuesday, Venables released some more information regarding the spring game, but this time it was details about how the game would be played.
Brent Venables informed media today that quarterback Dillon Gabriel would play for the Red Team and the White Team in Saturday's game, giving him the distinction of the only person to be on both sides. Everyone else, including coaches, will be split evenly among the two teams.
"We're gonna split the squad up and have a Red and White team," Venables explained. "Dillon [Gabriel] will play a little bit of quarterback for both sides, but otherwise we're gonna split it evenly, coaches as well, and we will name the head coaches another day. We will let the players know by Thursday who's on what team and then we will have it all juiced up on different sidelines."
This will be the first time that Brent Venables' version of the Oklahoma Sooners will be on display, and Sooner Nation is expected to come in droves to see their team start a new era. Although it will be a spectacle, Coach Venables still has expectations of his team to perform on Saturday.
"We're gonna find out where we are," Venables said. "We have a good feel going into the game for where we're at, but this is just another opportunity for us to go out and compete in a game-like situation and see how our guys respond.
"You want to see all the things that you've been demanding all spring; you want to see those things show up. How we play, how we compete, how we run on and off the field, play within the rules, doing the little things right.
"Stance, alignment, assignment, key. The fundamentals: [For offense] protecting the football, no blown assignments, no turnovers. On the other side of the ball, playing aggressive, playing physical, pursuing to the ball with violence, and making plays. Making plays when you get an opportunity on both sides of the ball.