Oklahoma Sooners
Colin Cowherd Continues to Use Oklahoma as a Catalyst for Clicks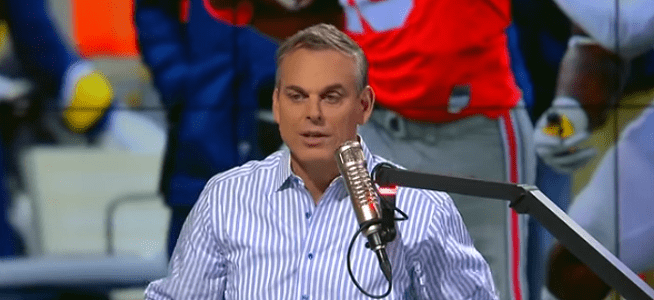 Here we go again.
Radio personality and sports talk show host Colin Cowherd is ruffling the feathers of those in the heartland yet again from his studio on the west coast, using Lincoln Riley as the premise.
Just about the time that Oklahoma fans have legitimately forgotten about Riley, Cowherd brings it back up. He's doing it so people like me will write stories on it, and you will click and read it, and the whole circle of life repeats itself.
Here is the latest blurb that the outspoken USC fan has hocked up and spit towards Norman, Oklahoma.
It's becoming more slanderous each time he types something up, but at this point, it's almost sad.
The fact that he tagged Oklahoma Football in his tweet tells me everything I need to know. USC isn't getting enough clicks out there, so he needs to rile up a real fanbase, like Oklahoma's. It's the same reason why he can't shut up about Baker Mayfield.
USC football has been irrelevant in the national picture for the better part of a decade and the hiring of Lincoln Riley has rekindled some lost excitement in what is left of the fanbase in Los Angeles.
Since Pete Carroll's dynastic run from 2002-08, the USC fan base has absolutely fallen apart and it's probably safe to say that the program is on its way back up, but to just assume that they will "fly past, around, and over" Oklahoma in 18 months is outrageous.
I'm not the only one that thinks Cowherd is being ridiculous, because former Sooner DT and now ESPN College Football analyst Dusty Dvoracek thinks he's a clown too.
I believe that Sooner Nation is over Riley, mainly because of their excitement about the direction Brent Venables is taking the Oklahoma program.
As someone who followed Riley's teams to each coast to watch them get shellacked by SEC foes in the College Football Playoff, I can tell you from firsthand experience, that unless Riley changes his S&C philosophy, USC will win nothing more than conference titles. Hell, that would be great for USC, but to expect them to win anything past that is empty wishes.
Unfortunately, we have to wait about five months before things start sorting themselves out on the field, so get ready for more spitballs from that loudmouth out west.