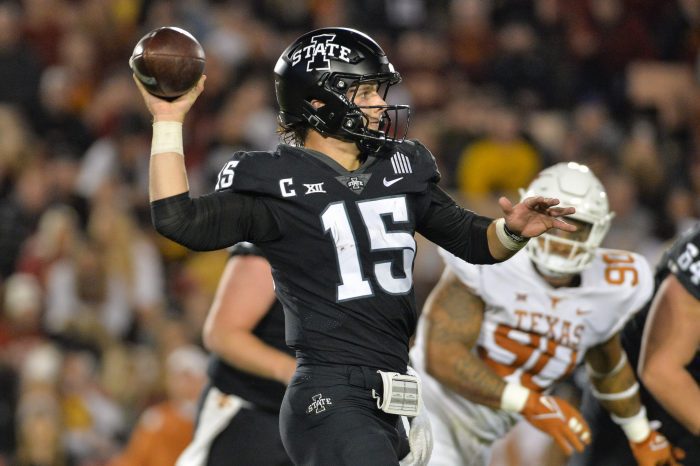 With a little over one week remaining until the Jacksonville Jaguars turn in the 2022 NFL Draft's first pick, the buzz surrounding future NFL quarterbacks is as high as it will be all year.
Names like Kenny Pickett and Desmond Ridder will flash across ESPN's Bottom Line in a never-ending cycle for the next nine days, but you know what name you probably won't see much of? Brock Purdy.
No, Iowa State's leading passer in nearly every major statistical category is flying under the radar ahead of the Draft.
If you check out nearly any "big board" or "mack draft" on the internet, the consensus is that Purdy isn't among the five best players at his position.
No, that group includes, in no particular order: Kenny Pickett (Pittsburgh), Desmond Ritter (Cincinnati), Matt Corral (Ole Miss), Sam Howell (North Carolina), and Malik Willis (Liberty).
However, according to one NFL analyst, Purdy has the tools to succeed at the next level and is being overlooked in this year's class.
"Brock is someone who's underrated," The Draft Network's Crissy Froyd said. "Part of that has to do with the questionable decision-making that he did on the field at Iowa State at times. He did hit some high points. He has the best or some of the best lower body mechanics in this draft."
In his final season with Iowa State, Purdy threw for 3,188 yards, 19 touchdowns, and eight interceptions, completing 71.7% of his passes. While he was extremely efficient, his ceiling was a bit capped by the fact that the Cyclones offense ran through All-American running back Breece Hall.
"This notion that he can't throw the deep ball…that comes from the fact that in the Iowa State offense, you have someone like Breece Hall who was the star running back, first or second rounder, so the offensive scheme is going to be tailored to him," Froyd said. "In a scheme like that, you don't need a quarterback to throw a lot of deep passes.
"He's shown it on film, he showed it on pro day, he showed it at the combine that he can throw the deep ball."
As you can see above, Purdy is capable of throwing the deep ball. It just wasn't asked of him very often in Ames.
Purdy's strength is less about his arm strength though, but more about what is going on between the ears and in his actions as a leader.
"A lot of resiliency," Froyd said. "He's a quarterback who's also gotten a lot of flack over the course of his career. He's bounced back from that well and I think he's brought a strong level of leadership to this team that has brought Iowa State to new heights. He just doesn't get enough credit for doing so."
Right now, Purdy is prjected to go sometime in Day 3 of the draft, and you would have to think that whoever lands him will be pleased with their return on investment.