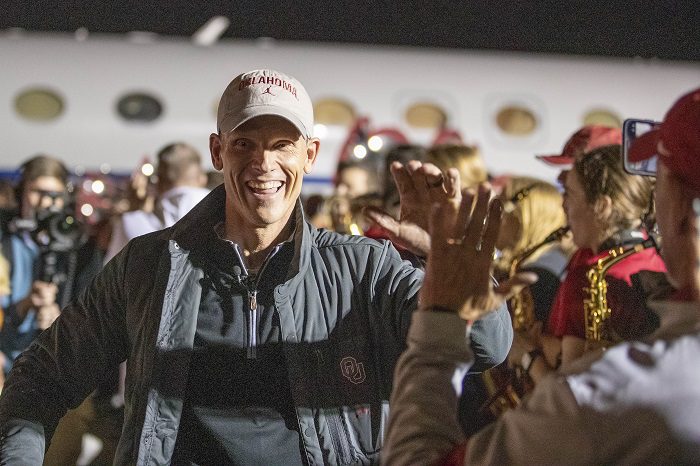 Oklahoma head coach Brent Venables is doing something for the first time in his career in 2022: he's in charge of an offense, as well as the defense that he has spent 30 years coaching.
With the new responsibilities, comes the need to develop deeper relationships with offensive players than he has had to in the past, including his quarterback.
If you ask Dillon Gabriel, the Sooners QB1 heading into 2022, the relationship with Venables came naturally.
"I just feel like it's so pure — it never really crossed my mind like that, man," Gabriel said this week when asked about Venables being a defensive-minded head coach. "Just I feel so comfortable being able to talk to him like it is coach [Jeff] Lebby, which is totally something I'm very new to. But just being able to go out there and talk to him regardless in passing or just going up to his office and being able to talk comfortably and not feel closed off about it, it's a super-good feeling. But having a defensive-minded head coach is definitely different. It's opened my mind to a lot of things, a lot of situational football. So I'm super happy I'm being able to play for coach BV."
Another thing that makes Venables approachable is the energy and passion that he coaches with, something that never waivers according to those around him.
"That's different, for sure," Gabriel said of Venables' energy. "That's another addition to some different things that I'm used to. But I think it's cool, too. It's just unique. He demands a lot, but man, he loves us even harder. So whenever you have that, you can demand a lot from all of the guys."
Venables, Gabriel, and the rest of the Sooners will be on display for the first time this Saturday when the Oklahoma Spring Game gets underway at 3:00 p.m. CT. Sooner Nation has been challenged to show up in droves on multiple occasions by their new head coach, so it will be interesting to see how they respond with attendance.