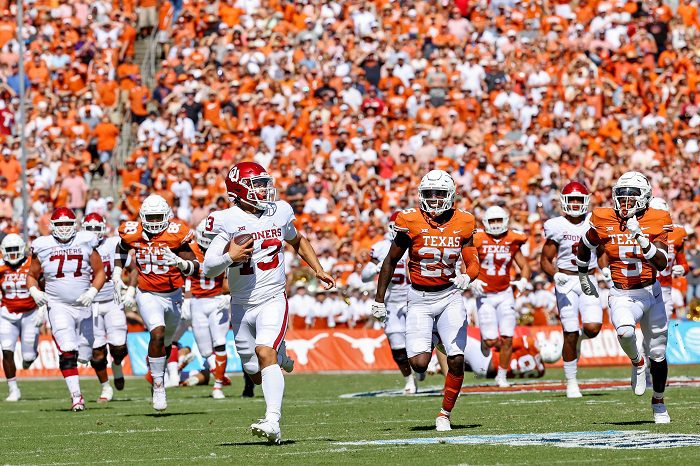 We are starting a new series titled "The Big 12 Conference's Best" and this week we are covering rivalries.
What exactly defines a rivalry? Well, Webster's dictionary defines it as: "the state of trying to defeat or be more successful than another," but it seems like there is more to it than that.
A rivalry is something that draws people together, as long as they are wearing the same colors. If they aren't, immediate distaste builds between total strangers. A rivalry is so deeply ingrained that it would drive someone to poison Toomer's Corner oak trees or key their school's initials into an opposing fan's vehicle. These things actually happen because of one person's loyalty to a school or team, and its hard to explain why, other than just saying it's for the love of the game.
Rivalries are the best part of college football, as they bring out every ounce of passion and intensity that fans can muster. Luckily for us, some of the best rivalries in the sport are right here in the Big 12 and here they are the Top Five.
5. Sunflower Showdown: Kansas vs Kansas State
Kansas and Kansas State first met on the gridiron on October 7, 1902 and have met in every season since then (excluding 1910) making it one of the oldest rivalries in Division-I college football history.
Kansas holds the overall edge in the series, 64-49-5, but the Wildcats from Manhattan have won a whopping 13 straight dating back to 2008 with an average score of 41-14. In that span, only two games have ended with a one-score margin (2009, 2018) as the Jayhawks have been one of the worst teams in all of college football.
The two schools have battled for a trophy called the Governer's Cup since its introduction in 1969, with Kansas State holding the edge since that point at 32-19-1.
4. Farmageddon: Iowa State vs. Kansas State
The game between Iowa State and Kansas State, recently monikered "Farmageddon" has been played in every season since 1917. They played through both the Spanish Flu Pandemic in 1918, both World Wars, and through COVID-19. Nothing is stopping this tractor, er, I mean train.
This is one of the closest rivalries on the list, with Iowa State holding a 52-49-4 series lead over Kansas State, including three victories in the last four meetings. However, Kansas State has won 16 of 21 since 2000, including a stretch of 10-straight victories from 2008 to 2017, which ties Iowa State's 10-game winning streak from 1943-1952 and Kansas State's streak from 1994-2003.
This rivalry has spanned three conferences (Missouri Valley Conference, Big 8, and Big 12) and doesn't get the publicity that some of the others in the conference do, but it certainly should as the games almost always come down to the wire, with 10 of the last 14 ending with a one-score margin. The one thing holding this game back is the lack of a trophy. How about a golden husk of corn or a wooden combine? C'mon guys, there's potential there.
3. Revivalry: Baylor vs. TCU
This rivalry is quite unique, considering that it features two private Christian schools in the heart of Texas, hence the name "Revivalry."
These two Texas universities have played 117 games since the first one in 1899 and it has been neck-and-neck from the beginning. In fact, there have been 44 times in this game's history that the margin of victory was seven points or less, including seven ties.
TCU holds the all-time record in this game, with a 57-53-7 advantage, and the series record was tied as recently as 2016. In 2014, the teams met for the first times as ranked opponents, as the No. 5 Baylor Bears erased a 58-37 deficit to defeat No. 9 TCU, 61-58 in one of the most memorable game in my lifetime. The Horned Frogs have won six of the last seven contests and have an 8-4 record since the rivalry was renewed in 2010.
One odd fact about this game is that in 1971, TCU head coach Jim Pittman collapsed on the sidelines during the game in Waco and passed away. Incredibly, TCU went on to finish the game, and win 34-27.
2. Bedlam: Oklahoma vs Oklahoma State
While lopsided, this rivalry has been one of the biggest on the national stage in recent years. Oklahoma State sent Lincoln Riley packing last season with their first win over the Sooners since 2014, holding off a comeback effort by freshman quarterback Caleb Williams that ended in a failed 4th-and-Goal try, securing the Cowboys 37-33 victory.
With meetings that date back to 1904, the Bedlam series is owned by Oklahoma with a 90-19-7 record. They have played unabated since 1910, not playing in 1905 or 1909, with the Sooners holding winning streaks of 19 (1946-64) and 15 (1977-91) in the series, but don't let that fool you.
When Oklahoma and Oklahoma State battle for the Bedlam Trophy, things get dicey in a hurry. Oklahoma State holds the bragging rights this year, and they'll be sure to remind their Sooner brethren of that until November 19, 2022.
1. Red River Showdown: Oklahoma vs. Texas
Was there really any doubt that this was the game at the top? The Red River Rivalry is considered one of the greatest games in college football, right alongside Ohio State-Michigan and Alabama-Auburn. The Sooners and Longhorns have done battle since 1900, playing in 117 meetings since then, with Texas leading the series 62-50-5. The tides have turned in Oklahoma's favor since the turn of the century however, as the Sooners have won 14 of 21 since 2000.
Seven of the last eight games have been decided by seven points or less, and the last two games have been among the best in this game's illustrious history. In 2021, Oklahoma defeated Texas 53-45, but they needed four overtimes to do so. Spencer Rattler's touchdown to Drake Stoops in 4OT was enough to put the Sooners ahead and an interception by Tre Brown on the final play of the game put Texas to bed for good.
Then 2021 attempted to take the drama up a notch, and didn't need more than regulation to do so. Oklahoma was down 28-7 late in the first quarter, but a Herculean comeback was led by true freshman Caleb Williams. The Sooners marched back and took their first lead (48-41) with 7:10 left in the fourth quarter. After Texas tied the game (48-48) with 1:23 left on a 31-yard Xavier Worthy touchdown reception, Sooners' running Kennedy Brook scampered for a 33-yard score and a knockout punch with :03 left, ending the game with a 55-48 Oklahoma victory.
Good luck topping that game in 2022.