Baylor Bears
24 Players Representing Big 12 Conference in NBA Playoffs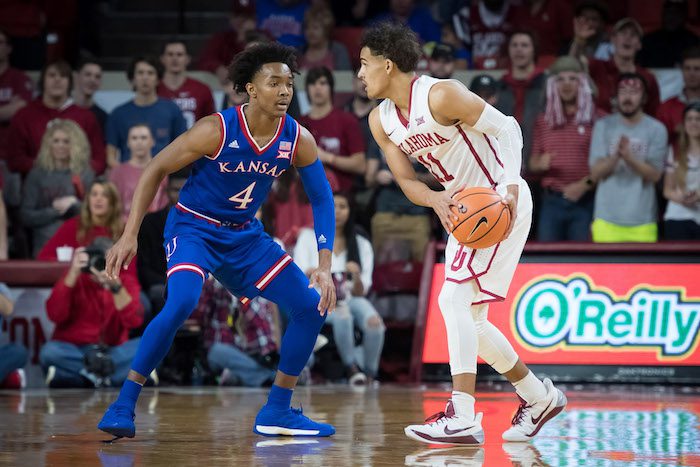 With the first round of the NBA Playoffs already under way, I found myself wondering how many players from the Big 12 are representing the conference in this year's postseason.
Many, including myself, consider the Big 12 the best conference in college basketball. That notion is ever more apparent when looking at the number of former Big 12 hoopers playing in the playoffs right now.
Without further adieu, here are the 24 NBA playoff participants who are repping the Big 12 conference by team.
Baylor
Jared Butler (Jazz), Royce O'Neal (Jazz), Taurean Prince (Timberwolves), Ish Wainwright (Suns)
Utah Jazz teammates Jared Butler and Royce O'Neal both share Waco roots and both are hoping to lead the Jazz to a championship run. Taurean Prince finds himself playing valuable minutes for the T-Wolves after spending time in Atlanta, Brooklyn and Cleveland, while former Baylor football and basketball standout Ish Wainwright rounds out Phoenix's roster heading into the playoffs.
Iowa State
Monte Morris (Nuggets), Georges Niang (76ers), Lindell Wiggington (Bucks), Matt Thomas (Bulls)
Former Cyclones Monte Morris and Georges Niang both continue to climb the NBA ladder as they make names for themselves on their respective teams, while Lindell Wiggington and Matt Thomas come off the bench for solid championship contenders.
Kansas
Joel Embiid (76ers), Andrew Wiggins (Warriors), Devonte Graham (Pelicans), Markieff Morris (Heat), Udoka Azubuike (Jazz), Svi Mykhailiuk (Raptors)
The 2022 Championship-winning Kansas program has the most pros in the playoffs with six. Philly's Joel Embiid is having a career year and is the current favorite to win league MVP. Andrew Wiggins continues his solid NBA career by complimenting a talented Warriors squad, while Devonte Graham and Markieff Morris play crucial roles for their respective teams. Udoka Azubuike and Svi Mykhailiuk have small but valuable roles after both enjoyed storied careers as Jayhawks.
Kansas State
Dean Wade (Cavaliers), Xavier Sneed (Jazz)
Former star for the Wildcats, Dean Wade continues to climb the roster in Cleveland, while Xavier Sneed makes up a dangerous Utah bench.
Oklahoma
Trae Young (Hawks), Blake Griffin (Nets)
Norman native Trae Young continues to develop his NBA stardom by taking the Hawks to the playoffs for the second straight season after reaching the Eastern conference finals a year ago. Blake Griffin, although injured, makes a deadly super team in Brooklyn.
Oklahoma State
Marcus Smart (Celtics)
Boston and Stillwater favorite Marcus Smart is in his seventh year wearing the green and white, recently making headlines by becoming the first guard to win the Defensive Player of the Year award since Gary Payton in 1996.
Texas
Kevin Durant (Nets), LaMarcus Aldridge (Nets), Jarrett Allen (Cavaliers)
Brooklyn teammates and Texas alums Kevin Durant and LaMarcus Aldridge hope to make a championship run after being perhaps half a shoe size away from making the Finals a season ago, while the Cavs' Jarrett Allen brings his young squad to a surprising playoff appearance.
TCU
Desmond Bane (Grizzlies), RJ Nembhard (Cavaliers)
Desmond Bane has been one of the many surprises on his Memphis team during his second year in the league, averaging 18.2 points and 4.4 assists per game on the year. RJ Nembhard is a solid bench contributor for the Cavs after signing a two-way contract with the team earlier in the month.
Texas Tech
Jarrett Culver (Grizzlies)
After spending his first few years in Minnesota, Jarrett Culver now comes off the bench for Memphis after going sixth overall in 2019 out of Lubbock.
West Virginia
Jevon Carter (Bucks)
Carter was traded to Milwaukee midway through the season after spending time in Phoenix, Memphis and Brooklyn. He's cemented himself as a workhorse in the league and is currently enjoying career highs in points, assists and rebounds per game.