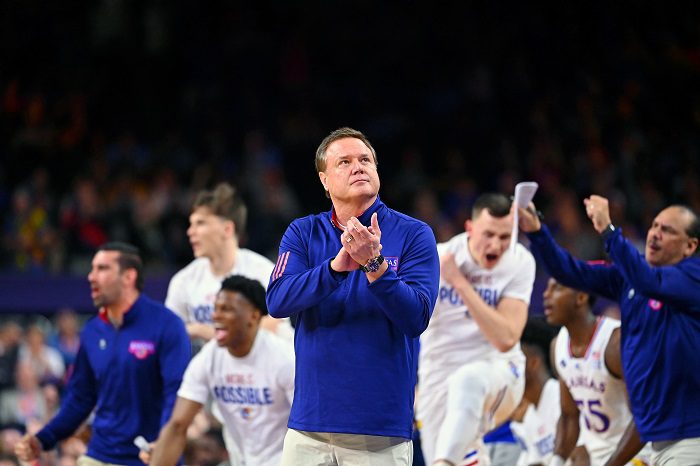 It was announced on Wednesday night that Jay Wright, Villanova's head basketball coach for 26 seasons, was hanging it up after a trip to the 2022 Final Four.
Wright has seen success matched by few in his time, especially over the last decade or so.
In the last nine years of his career, Wright led the Wildcats to unparalleled success.
According to CBS Sports' Jon Rothstein, over Wright's last nine seasons, Villanova won two national championships, appeared in three final fours, and won seven Big East regular-season titles and 5 Big East Tournament titles.
His teams held a 22-6 record in NCAA Tournament games in that span, along with an overall record of 263-45 (.832).
Perhaps one person who can understand the profound impact that Wright has had on college basketball is Kansas head coach Bill Self, who coached against Wright in his final game at Villanova when the Jayhawks defeated Wright's Wildcats en route to the 2022 National Championship.
On Thursday, Self spoke about Wright's impact on the game they both have built a legacy in coaching.
"Jay has been a pillar in our profession for a long time," Self said in the statement. "He is truly a class act and our profession will miss the way he has represented it. I wish him the best in whatever he chooses to do in retirement. He deserves and has earned it."
"I believe Jay and I have had a very friendly rivalry, one of respect and appreciation for how the other teams always played. It was easy to shake hands with Jay Wright after a game, regardless of the outcome."
Just like Duke being without Coach K, watching Villanova without Jay Wright at the helm will be weird, no doubt, but it is something we will have to get used to.
We are entering a new era of basketball, with the legends we grew up watching moving on to retirement, making room for new legends to be born.