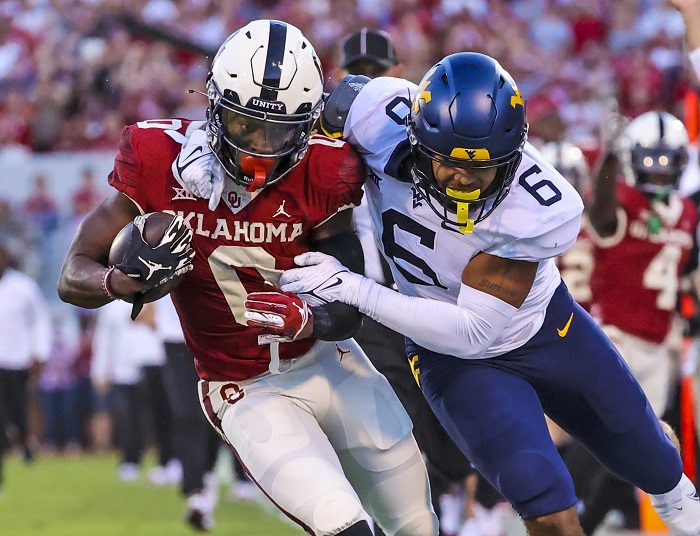 The Oklahoma Sooners have never lacked competition at the running back position, and this year will continue the tradition of great ball carriers. This year's backs are learning from one of the great Sooners, Demarco Murray, who was hired as running backs coach in 2020. Murray, OU's touchdown king with 65 TDs in his career (2007-2010), has been impressed with the work ethic of his backs this spring—Eric Gray, Marcus Major, Jovantae Barnes, Todd Hudson, Jayden Knowles, and Tawee Walker—all "competing at a high level."
"They've looked good. They look really good," Murray said. "They show up every single day to work hard. Show up every day to learn and then just the physical side of things at that position."
Gray, Major, and Barnes are the favorites to earn a starting slot this fall but could be challenged by Gavin Sawchuck, who won't be in Norman until summer.
Sawchuck and Barnes are two of the 10 best running backs of the 2022 class to sign with the Sooners. Sawchuck, from Highlands Ranch, Colorado, was ranked fourth by ESPN and 10th by Rivals. Barnes, from Murray's backyard in Las Vegas, was ranked third by Rivals and seventh by ESPN.
They all had to learn a new system led by offensive coordinator Jeff Lebby. That's why it's vital to get into the groove during spring training, and Gray, Major, and Barnes will have the experience of 20 practices in the Lebby regime.
That regime is a fast-tempo offense that involves running the ball more. In Lebby's three years as offensive coordinator (two at Ole Miss and one at Central Florida), his teams averaged rushing the ball a combined 46 attempts per game. OU averaged 36 attempts during the same three-year period.
"I think we're going to get more opportunities to be on the field, which is great," Murray said. "In previous offenses, it was a bit more slow."
"We're going to play incredibly fast," Lebby said. "We're going to push the tempo. We're going to dictate how the game is played. That's where it starts for us."
The Front Runners
Gray transferred to Oklahoma from the University of Tennessee a year ago. He played in 13 games and started six of them. He also has played 22 games during two years at Knoxville. Gray carried the rock 78 times for 412 yards (5.3 per carry) and 2 touchdowns. He also hauled in 23 passes for 229 and two more scores. Gray's best game came in the Alamo Bowl, where he picked up 82 yards on 8 totes and caught 5 passes for 25 yards and a touchdown in the Alamo Bowl.
"Eric Gray has done an unbelievable job every single day," Murray said at a recent press conference.
After being declared academically ineligible to begin the 2021 season, Major was reinstated in early October but only saw action against Texas Tech and Oregon. The redshirt junior has played in 19 games for the Sooners in his career, picking up 298 yards on 60 carries and 3 TDs. Like Gray, his best game came in a bowl appearance—9 carries for 110 yards, including a 46-yard touchdown in the 2020 Cotton Bowl.
Murray appreciates Major's maturity.
"He's obviously been around for a while," Murray explained. "So he knows how to take care of himself knows how to take care of his body, but knows how to get himself ready for Saturday. So looking forward to a big year for him."
After observing Jovantae Barnes this spring, Murray believes the freshman will be a significant contributor by fall, especially if Barnes continues working hard by grasping the offensive scheme.
"He's a great athlete. He's a really good athlete," Murray said. "He's strong. He's powerful. He's done a great job with our strength coaches in the weight room in the offseason program of getting stronger, getting faster. And when spring ball is over, he's going to want more because he's going to feel like he's just now scratching the surface. He finally understands the play calls and the concepts of things."
Other Contenders
Hudson and Knowles only saw action in the second half of the Sooners' 76-0 blowout over Western Carolina last year. Hudson, a redshirt junior, rushed 9 times for 30 yards and 2 touchdowns. Knowles, a redshirt senior, picked up 37 yards on 4 carries and scored twice. Hudson saw limited action two years ago, carrying the ball 8 times for 20 yards in mop-up duty.
Both running backs made impressions in last year's Red-White game. Knowles carried 3 times for 31 yards, scored once, and caught 4 passes for 48 yards. Hudson had 3 carries for 38 yards. He made a 37-yard run on the final play of the scrimmage.
Walker is another Las Vegas product who signed with Oklahoma as a JUCO transfer. Last year, he rushed 187 times for 875 yards and 8 TDs at Palomar College in California