Baylor Bears
Big 12 Baseball Preview: TCU Travels to Stillwater, Texas Tech Hosts West Virginia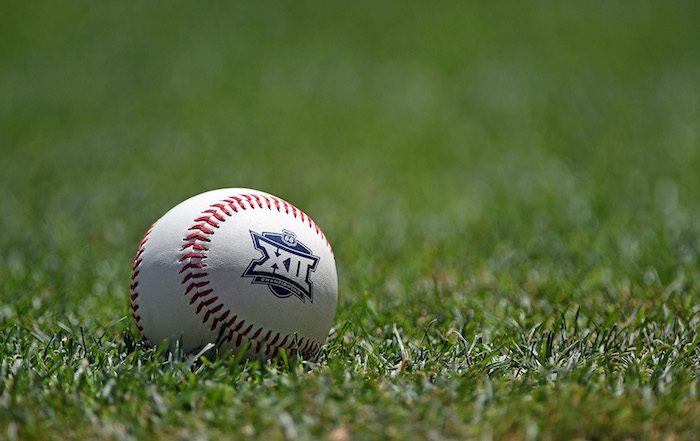 College baseball has moved into the meat of its conference schedule as teams start to figure out where they stand in the conference hierarchy.
Oklahoma State emerged as the top team in our Big 12 Baseball Power Rankings, but will that change after an upcoming matchup in Fort Worth?
There are plenty of exciting matchups heading into the weekend so let's take a look at the upcoming schedule.
Notable Games
#21 TCU at #3 Oklahoma State
After sweeping Texas Tech in Fort Worth last weekend, the Horned Frogs get another crack at a top team in the Big 12. Meanwhile, Oklahoma State was able to take care of business against a red-hot West Virginia team in Morgantown. The Cowboys' bats have come alive over the past few games led by Jake Thompson while Justin Campbell has been a great ace on the mound.
However, Oklahoma State will need more than Campbell to beat TCU as the Frogs have a dangerous lineup with Tommy Sacco, Elijah Nunez, Brayden Taylor, and David Bishop. And just like Oklahoma State, TCU has its own pitching ace in Riley Cornelio.
This week I have both of these teams in the top two in my weekly Big 12 power rankings and without a doubt, this will be the matchup to watch this weekend.
West Virginia at #9 Texas Tech
Both of these teams could use a big bounce-back weekend as West Virginia lost their Sunday game against Oklahoma State to drop the series while Texas Tech looked like a shell of themselves as TCU swept them.
This should be a great series as both teams are still figuring things out on the mound. The pitching rotations aren't incredibly deep for either side, but it has been interesting to see each team find their groove at the plate. Texas Tech has arguably the best lineup in all of college baseball and West Virginia has started to come on strong as they have several players batting over that .300 mark.
I wouldn't be surprised to see a high scoring game or two in this series but the winner of this one will remain right in the front of the pack of the Big 12 title race.
Baylor at #10 Texas
A few weeks ago, I wouldn't have even given Baylor a chance in this series but with the way Texas has looked lately, it feels like any team could beat them. Despite its top ten ranking, Texas has looked like a shell of itself over the last couple of weeks.
Pitching has taken a nosedive as they have been giving up a ton of runs including a whopping 26 runs to Air Force this week. While their struggles continue, they have done a decent job keeping their production at the plate up led by Ivan Melendez and Murphy Stehly. Baylor may have a shot here, but they will need to step their game up. They still haven't found a good second starting pitching outside of Tyler Thomas and have been very inconsistent offensively.
This could turn out to be one of those series that breaks the hopes of a Big 12 title for Texas or maybe is the turnaround that they desperately need.
Oklahoma at Kansas
Even though the Sooners have had their fair share of struggles this season and have dropped some close games against good teams, they still are a fringe postseason team according to D1Baseball.
I have enjoyed seeing Peyton Graham, Blake Robertson, and Tanner Tredaway swing the bat this year, but they still need some pitching help.
The good news is that they are playing Kansas and outside of shortstop Maui Ahuna, they shouldn't have any issues taking the series in Lawrence, Kansas.
Other Games
UC Irvine at Kansas State
The Wildcats are taking a break from Big 12 play after knocking off the Texas Longhorns last weekend. UC Irvine is a quality opponent, but I am interested to see if Kansas State builds off that Texas win and can string some wins together.