Big 12 News
Steve Sarkisian 'Really Happy' With Spring Game Quarterback Play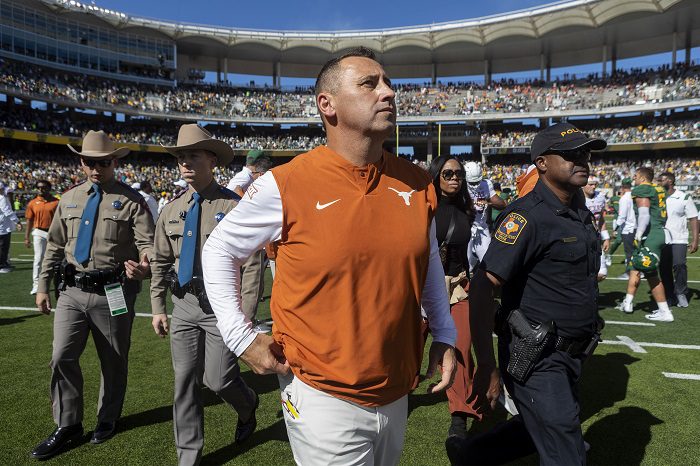 The quarterback battle in Austin, Texas, is heating up after a solid spring game from Hudson Card and Quinn Ewers, both accounting for touchdowns on Saturday.
The Longhorns' quarterback position was expected to be an open competition this offseason, but things really opened up after last year's starter Casey Thompson transferred to Nebraska.
Hudson Card, a 4-star prospect out of Lake Travis High School, is going into his third year as a Longhorn and was initially the starter in the 2021 season before being replaced in Week 3 by Thompson.
Quinn Ewers, also a Texas native from Southlake Carroll High School, was a 5-star recruit who verbally committed to the Longhorns before switching his commitment and starting his collegiate career for the Ohio State Buckeyes. In December, he entered the transfer portal and found himself signing with the Longhorns.
"I'm really happy with the growth and where they're at," Sarkisian said about his QB play on Saturday, according Horns247. 
With Texas experiencing their longest losing streak in 65 years last season, no other player carries the weight or pressure that the quarterback position will this year. Texas started the 2021 season with a 4-1 record before losing six consecutive games, including a loss to the Kansas Jayhawks in Austin, before finishing the season with a win vs. Kansas State to cap off a 5-7 season.
Sarkisian stated earlier in the week that "In the end, from where that position is today, from where we were a year ago, I'm really pleased. I just think that we're at a place right now where we're playing really good football at that position. I think, at times, we need to be a little better around them, but that's all part of the growth."
Texas fans have already gotten to see a glimpse of the highs and lows of Card and seem to be anticipating Ewers winning the job, but Sarkisian has been clear that he is not ready to make the call on who will lead the Longhorns out onto the field in Week 1. "Both guys have played really well. I've been impressed with their playmaking ability. When there's times to take their shots, they're taking their shots, not that every throw was perfect. They've been really effective on third down. Both guys have used their legs well," the head coach added.
Texas will open up the 2022 season with a home game vs. Lousiana-Monroe and will have a short time to fine tune things before a much anticipated match-up against the Alabama Crimson Tide.