Baylor Bears
Big 12 Softball Power Rankings: Oklahoma Teams A Cut Above the Rest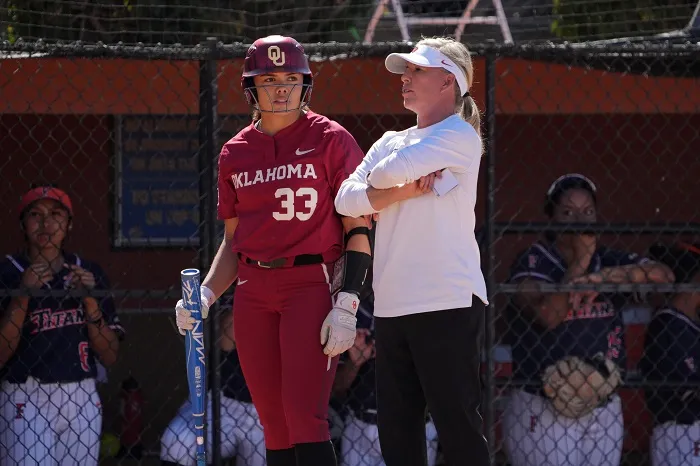 The Big 12 softball regular season has just two weekends left and it has become quite clear that the two teams residing in the Panhandle state are exactly what we thought they would be: the two best teams in this conference.
There were some changes in the middle of the pack for Big 12 standings, as well as Texas now sitting in a tier of its own. It's becoming clear how teams stack up going into the final two weekends of the regular season.
With that, here are this week's Big 12 Power Rankings.
Oklahoma continued its dominance this weekend by sweeping Iowa State, winning the latter two games of the series by identical 9-0 margins. Outscoring Iowa State 24-4 and North Texas 10-0 last week reassured us that this Sooners team is still a force to be reckoned with, regardless of the loss to Texas in Austin last weekend. With Jocelyn Alo, Tiare Jennings, Jayda Coleman, and Grace Lyons swinging the bats as well as anyone in the country, and the Sooners pitching staff holding three of the top seven ERAs in America, this team looks like the most well-rounded in softball by a country mile.
Oklahoma State did something this weekend that their in-state rivals failed to do a week prior: put away Texas three times in a row. In three low-scoring affairs, Oklahoma State improved to 38-7 on the season and deserves to be viewed as one of the top teams in softball right now. Kelly Maxwell's ERA continues to improve, down to 1.04 on the season, while her team's batting average of 3.15 ranks 27th nationally and third in the conference. This team has a huge test as it heads down to Tallahassee to take Kathryn Sandercock and the Florida State Seminoles before Bedlam next weekend.
Texas went into Stillwater riding a wave of momentum after upsetting Oklahoma in Game 3 of a series loss to the Sooners. Then, they ran into a defensive buzzsaw in Kenny Gajewski's squad behind strong pitching performances from Kelly Maxwell, Miranda Elish (Texas transfer), and Morgan Day. The 2022 season is not a failure by any means, and it is far from over for the Longhorns, but they are missing Shea O'Leary in a bad way and this year will likely be a "what-if" for Longhorns fans who are seeing Janae Jefferson likely play her last year in Burnt Orange.
Baylor sits at six games over the .500 mark with its postseason hopes virtually guaranteed to end in the Big 12 tournament, but anything can happen so the Bears need to just keep winning. A sweep over Texas Tech would've been a good start but the Bears weren't able to pull that off and now have just a series with Iowa State and Texas remaining on the Big 12 schedule. They would need to win out and get some help from outside the conference to change their fate, or win the Big 12 tournament outright. That, however, isn't likely.
Texas Tech avoided a sweep with a Game 3 victory over Baylor, but this team did what it's done almost all season: fall right back into a hole it just dug itself out of. Losses to Abilene Christian and Kansas in the month of April are perfect examples of this team getting caught off-guard against teams that shouldn't beat them. This team is capable of being the fourth-best team in the conference, as they showed against Iowa State last week. However, inconsistency will be the headline for this team in 2022.
This team has crashed and burned, going 2-14 since March 25 and getting blown out in several of those losses. Yes, getting outclassed by opponents like Oklahoma and Oklahoma State is excusable, but run rule losses to Texas Tech, UNI, and BYU aren't. Iowa State's season will end in Oklahoma City in a few weeks, despite great seasons from Mikayla Ramos and Carli Spelhaug.
Kansas has had a rough go in 2022, but managing to win games against Missouri, Baylor, Texas Tech, and a pesky North Texas team in the last month of play is a testament to the resolve of this Jayhawks squad. They in all likelihood will face Oklahoma or Oklahoma State in the first round of the Big 12 Tournament in a few weeks, spelling the end to their 2022 campaign, but the future looks more promising for this Jayhawks team.