Big 12 News
'We Will' NIL Collective Launches for Iowa State Athletes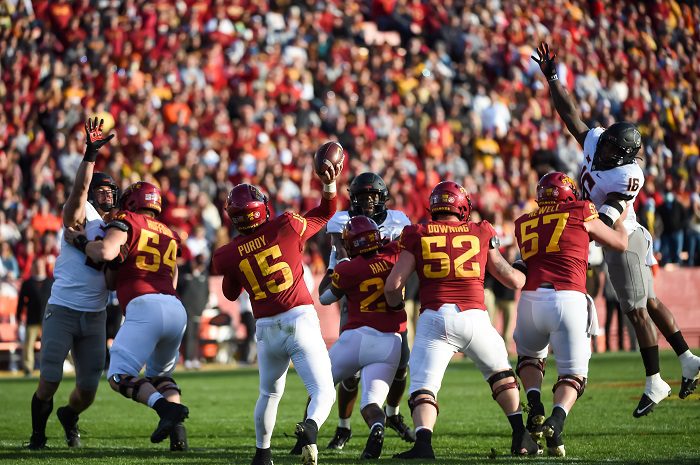 As was reported last week, Iowa State athletics is getting with the times as the "We Will" NIL Collective was officially launched over the weekend.
"We Will" is an independent entity, as are all (legal) NIL collectives, and was organized by Iowa State boosters and former athletes and coaches.
This collective will encourage Cyclones' athletes to be "community-minded" with their name, image, and likeness, according to their official site.
Connor Greene, the collective's director, says that "We Will" wasn't created to fund paydays to big-time athletes or to win bidding wars for athletes' services. No, Green wants this collective to be the standard to which other schools try and achieve.
"I want other schools to look at this and say this is how it's supposed to be done," Greene said. "We aren't going to be interested in throwing money at people in the transfer portal and bring them here, that's not what this is."
According to the Des Moines Register, former Iowa State football coach Dan McCarney, among other Cyclone legends, are on the board for the collective.
The collective's name comes from the "I Will" excerpt of Jack Trice's letter ahead of a game against Minnesota in 1923, where Trice sustained injuries that would eventually lead to his death.
Trice's letter reads as follows:
"To whom it may concern: My thoughts just before the first real college game of my life. The honor of my race, family and self are at stake. Everyone is expecting me to do big things. I will! My whole body and soul are to be thrown recklessly about on the field tomorrow. Every time the ball is snapped I will be trying to do more than my part. On all defensive plays I must break thru the opponents line and stop the play in their territory. Beware of mass interference, fight low with your eyes open and toward the play. Roll block the interference. Watch out for cross bucks and reverse end runs. Be on your toes every minute if you expect to make good."