Baylor Bears
Jana Van Gytenbeek Announces Her Transfer to Baylor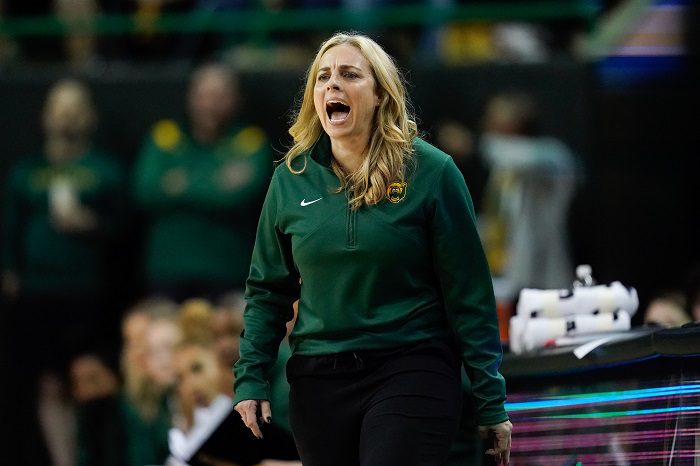 Jana Van Gytenbeek, a national champion for Stanford, announced her commitment to the Baylor Bears on Tuesday night.
Van Gytenbeek played for the Cardinal for two seasons and was a part of their run to the 2021 national championship as a freshman.
Van Gytenbeek announced her commitment via social media.
Van Gytenbeek didn't play much for the Cardinal during her two seasons in Palo Alto, but she did average 2.4 points per game last season.
The Bears are seeking to replace three players that are in the WNBA — forward NaLyssa Smith, center Queen Egbo and guard Jordan Lewis.
There is untapped potential. Van Gytenbeek was considered a five-star talent coming out of high school, rated as the 39th best player in the country according to ESPN HoopGurlz and 29th by Prospects Nation. She is the all-time leader in assists in the state of Colorado.
Big 12 Women's Basketball 2021-22 Transfers
(Out: after 2021-22 season; In: for 2022-23 season; new/old school in parenthesis)
Baylor
Out: G Kamaria McDaniel
In: G Jana Van Gytenbeek (Stanford)
Iowa State
Out: G Maggie Frederick, G Aubrey Joens.
In: C Stephanie Soares (The Master's University – NAIA)
Kansas
Out: G Erica Haynes-Overton, G Aniya Thomas.
In: G Wyvette Mayberry (Tulsa).
Kansas State
Out: G Jada Moore, G Marlene Lind Pedersen, F Rachel Ranke.
In: Gabby Gregory (Oklahoma), Gisela Sanchez (Arizona).
Oklahoma
Out: F Gabby Gregory (Kansas State), F Bre'yon White (TCU).
Oklahoma State
Out: F Tracey Bershers, G N'Yah Boyd, G Micah Dennis, F Tori Garza, G Lauren Fields, F Brittany Reeves (Mercer), F Ruthie Udoumoh.
In: G Naomie Alnatas (UMKC), G Landry Williams (UMKC).
Texas
Out: G Ashley Chevalier (Texas Tech), F Lauren Ebo, F Precious Johnson (Auburn), F Latasha Lattimore, G Audrey Warren (Georgia)
In: Taylor Jones (Oregon State)
TCU
Out: F Tavy Diggs, G Caroline Germond, G Aja Holmes, C Kayla Kokwuah, F Aaliyah Morgan (Louisiana Tech), F Yummy Morris, G Emma Schmidt (Duke).
In: F Bella Cravens (Nebraska), G KN'isha Godfrey (from Mississippi State), G Tomi Taiwo (Iowa), F Bre'yon White (Oklahoma).
Texas Tech
Out: F Chantae Embry, C Khadija Faye
In: G Ashley Chevalier (Texas), G Jasmine Shavers (from Mississippi State)
West Virginia
Out: G Jasmine Carson (LSU), C JeAnna Cunningham, G KK Deans, F Esmery Martinez (LSU), F Kari Niblack(Georgia), F Emma Shumate(Ohio State).
In: G/F Kylee Blacksten (Colorado), G Kyah Watson (South Dakota).
Transfers verified at players' social media, team releases, wbbblog.com