Baylor Bears
Baylor's 2021 Starting QB Gerry Bohanon Enters Transfer Portal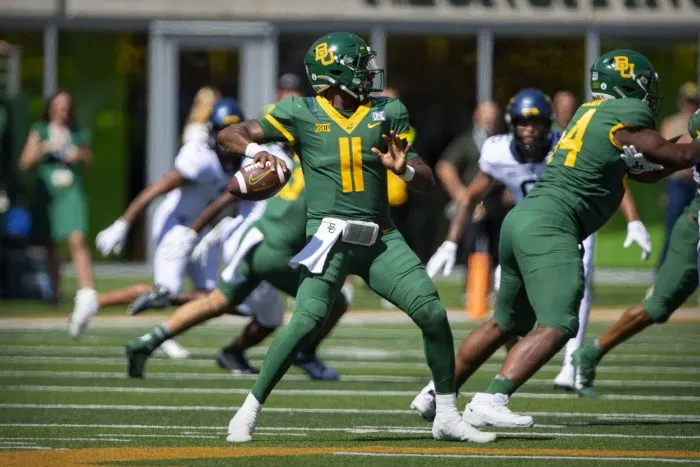 According to 247Sports' Chris Hummer, Baylor's starting quarterback in 2021, Gerry Bohanona has entered the NCAA Transfer Portal.
This decision comes shortly after Dave Aranda announced that sophomore Blake Shapen would be the starter for 2022. Shapen filled in for the injured Gerry Bohanon in the regular-season finale against Texas Tech and in the Big 12 Championship against Oklahoma State.
In those two appearances, Shapen completed 72.1% of his passes (82% in the Big 12 Championship) for 596 yards and five scores with zero interceptions.
Shapen beat out Bohanon in a "hard-fought battle through spring practice," ultimately earning the job in the Bear's Green & Gold game with a stellar performance where he exhibited great decision making and a strong, accurate arm.
As Hummer pointed out in a tweet, Dave Aranda announcing Shapen as the starter before the May 1 Transfer Portal Deadline allowed Bohanon to explore his options, which is something the vast majority of college coaches wouldn't do. This is yet another example of Aranda practicing what he preaches by keeping Bohanon's best interest in mind.
Bohanon was a four-star quarterback in the class of 2017 and the 10th-ranked dual-threat quarterback in that class. He will have one more year of eligibility remaining as a graduate transfer and will likely be a commodity in the portal after completing 62.9% of his passes in 2021 for 2,200 yards and 18 touchdowns against seven interceptions while rushing for 323 yards and nine touchdowns.