Oklahoma Sooners
Watch: Oklahoma EDGE Nik Bonnito Appears on 'Good Morning Football'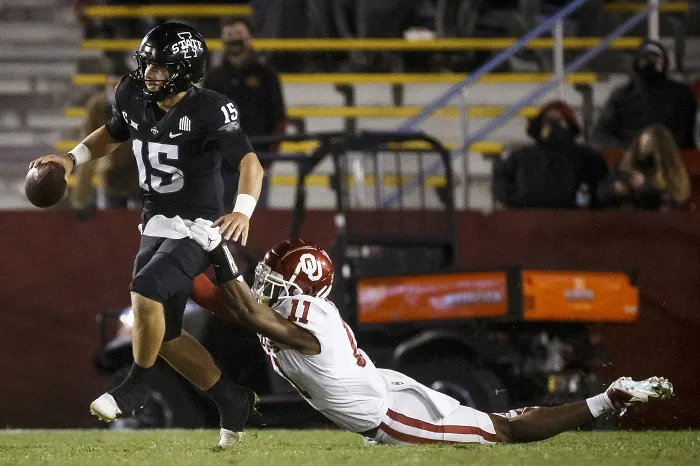 When the NFL Draft gets underway on Thursday evening, it's unlikely that Oklahoma edge-rusher Nik Bonitto has his name called. However, he will likely be off the board on Friday and could likely be a bargain as a second or third round selection.
NFL GM's are calling Bonitto a "unicorn," thanks to his unique skillset and combination of size and speed. At 6-3, 248 pounds, Bonitto ran a 4.54 40-yard-dash at last month's NFL Combine and turned some heads in doing so.
In 36 games over four years, Bonitto recorded 118 tackles, 33.0 tackles for loss, 19.5 sacks, seven passes defended, one interception, and one forced fumble.
In an appearance on Good Morning Football, Bonitto discussed how he feels his unique abilities will benefit him at the next level.
"I feel like I fit the bill when it comes to the term 'unicorn,'" Bonitto said. "Being able to a lot of things on the field, whether it's rushing the passer, having to drop in coverage, having to spy the quarterback, you know, a lot of things that [NFL] defenses ask for in the modern game today I feel like I can do."
In a message to NFL GM's and coaches, Bonitto got the chance to make his case for a selection with one of the NFL organizations, pointing to his willingness to work and earn the respect of his future teammates.
"[I'm] a guy that's going to come in on day one and work," Bonitto said. "Earn the respect of guys in the locker room and earn that trust between them and everybody in the building. I'm just a guy thats going to work and contribute to winning; whatever I can do to win. That's going to me, for sure."
At this point it's not a matter of if, but when Bonitto will be off the board in the 2022 NFL Draft and we will know the answer to that very soon.