Big 12 News
De'Vion Harmon Announces Transfer to Texas Tech Basketball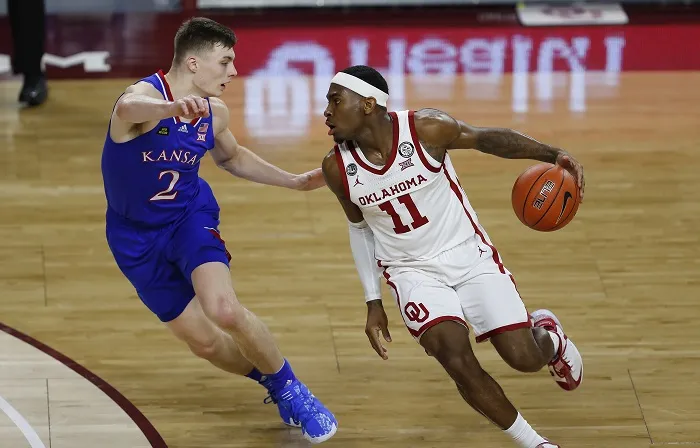 De'Vion Harmon will transfer to Texas Tech for the 2022-23 basketball season, giving the Red Raiders a former Big 12 star on their roster.
Harmon played at Oregon last season, but he played at Oklahoma for two seasons before transferring to the Ducks.
Harmon made his announcement on social media.
Last season at Oregon, Harmon averaged 10.8 points, 2.6 rebounds and 2.1 assists per game. Perhaps more importantly to the Red Raiders, Harmon brings a solid 3-point shot to Lubbock, something the team lacked overall last season.
Harmon joins another quality 3-point shooter in transfer D'maurian Williams, who just transferred to Texas Tech from Gardner-Webb.
Harmon, a Denton, Texas, native, played his first two seasons of college basketball for Oklahoma under then-head coach Lon Kruger. Harmon declared for the NBA Draft and moved into the transfer portal after Kruger retired last spring.
The Red Raiders are working to replace two big pieces of their team that have declared for the transfer portal in Kevin McCullar and Terrence Shannon Jr.
Big 12 2021-22 Transfer List
(Out: after 2021-22 season; In: for 2022-23 season; new/old school in parenthesis)
Baylor
Out: F Dain Dainja (Illinois)
In: F Jalen Bridges (West Virginia), F Caleb Lohner (BYU)
Iowa State
Out: F Tristan Enaruna (Cleveland State) C Xavier Foster, F Blake Hinson (Pittsburgh), G Tyrese Hunter, G Tre Jackson (Western Carolina), F Javan Johnson (DePaul), G Jaden Walker (East Carolina)
In: F Tre King (Georgetown), F Hason Ward (VCU), G Jeremiah Williams (Temple).
Kansas State
Out: C Davion Bradford, G Maximus Edwards, C Kaosi Ezeagu, G Drew Honas, G Luke Kasubke, F Logan Landers, F Seryee Lewis (Rice), F Carlton Linguard (UTSA), G Selton Miguel (USF), F Montavious Murphy (Stephen F. Austin), G Nijel Pack (Miami (FL).
In: G Camryn Carter (Mississippi State), G Jerrell Colbert (LSU).
Oklahoma
Out: G Elijah Harkless (UNLV), G Umoja Gibson, C Rick Issanza, G Alston Mason (Missouri State), F Akol Mawein (Sacramento State)
In: G Joe Bamisile (George Washington), F Sam Godwin (Wofford).
Oklahoma State
Out: F Matthew Alexander-Moncrieffe (Georgia), F Keylan Boone (Pacific), G Isaac Likekele, G Donovan Williams (Pacific)
TCU
Out: G Francisco Farabello (Creighton), G Cashius McNeilly (Northern Oklahoma College-Tonkawa)
Texas
Out: G Devin Askew, F Tre Mitchell, G Courtney Ramey, F Jaylon Tyson (Texas Tech)
In: G Sir'Jabari Rice (New Mexico State).
Texas Tech
Out: G Chibuzo Agbo (Boise State), G Sardaar Calhoun (Drake), F Kevin McCullar, G/F Terrence Shannon Jr.
In: G De'Vion Harmon (Texas Tech),F Jaylon Tyson (Texas), G D'maurian Williams (Gardner-Webb).
West Virginia
Out: F Jalen Bridges (Baylor), C Isiaah Cottrell, G Sean McNeil (Ohio State), F Seny Ndiaye (USC Upstate), F Taj Thweatt (Coastal Carolina)
In: F Erik Stevenson (South Carolina), G Joe Toussaint (Iowa).
Transfers verified at links, players' social media, verbalcommits.com