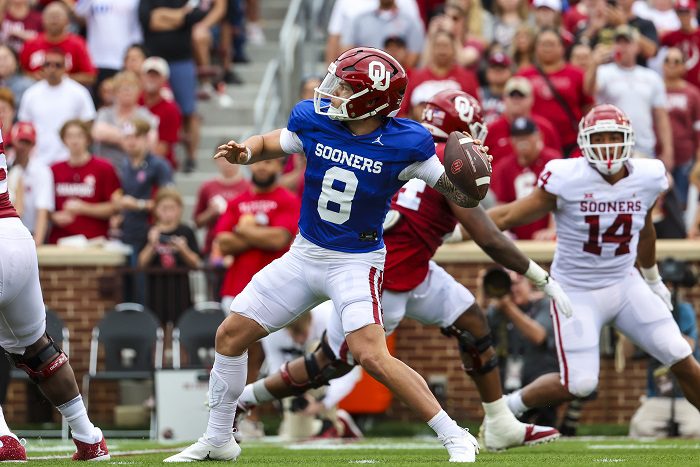 Oklahoma baseball is set to host Kansas State this weekend in a pivotal series for the Sooners, who currently sit fifth in the Big 12 standing at 25-14 (7-5).
On the other hand, the Wildcats are eighth in the standings at 21-19 (3-9) but have played the four toughest teams in the Big 12 to this point and have a series win over the Texas Longhorns.
The Sooners need to take this series with road trips to Fort Worth and Lubbock still on the schedule as well as hosting a surprising West Virginia squad.
In order to squeeze every ounce of good luck out of the weekend, the Sooners are bringing in Oklahoma quarterback Dillon Gabriel to throw out the first pitch.
Gabriel played baseball growing up, and, unsurprisingly, spent some time on the mound in his youth. The left-hander certainly has some zip when throwing the pigskin, but what about a baseball?
If he is asking "fastball or curve," he probably knows what he's doing up there, but don't be surprised if Brent Venables has already told him to take it easy out there and don't throw that arm out practicing.
After all, the Sooners' backup quarterback at the moment is true-freshman Nick Evers. Although Evers is uber-talented, thrusting a freshman quarterback who isn't quite ready into action is never a good thing, making Gabriel Oklahoma's most valuable player.