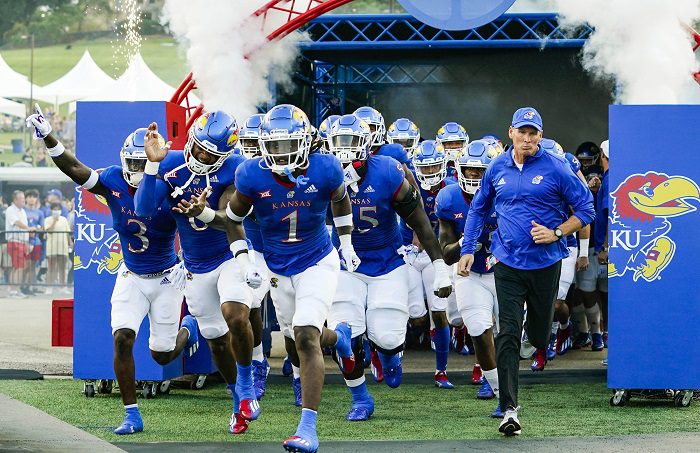 The Athletic's Jayson Jenks and Rustin Dodd released a story on Tuesday titled "Kansas could've landed Jim Harbaugh in 2009. Instead, it launched the football program's 'decade of disaster'."
Yes, you read that correctly. Instead of becoming the worst Power Five football program in the country, Kansas had the chance to hire Jim Harbaugh, and they blew it. Here's how.
Coming into the 2008 season, Kansas was fresh off of a 12-1 season that included an Orange Bowl victory over Virginia Tech and finishing No. 7 in the final AP Poll, one spot ahead of the Oklahoma Sooners.
The Jayhawks then followed that up with an 8-5 season, which was respectable considering that the Big 12 was arguably the toughest conference in football at that time.
While there was success being had on the field, head coach Mark Mangino reportedly didn't get along with athletic director Lew Perkins. Perkins was looking for any reason to get rid of Mangino, success on the field be damned. In fact, the season before KU won the Orange Bowl, Perkins told a beat writer that he planned to fire Mangino if the Jayhawks didn't win seven or eight games. An anonymous assistant said that Perkins was very clear with him as well, saying: "You know that if you guys don't win eight games this year I'm going to fire all of you."
Well, they did win eight games. Then, they turned around and won eight games, including a second bowl game in a row in 2008. That set up the 2009 season to be one of the best yet, and it started off that way as the Jayhawks went 5-0 to being the year, climbing all the way to 16th in the AP Poll. Then, a report came out about Mark Mangino poking linebacker Arist Wright in the chest.
Whether or not that was crossing the line is a matter of opinion, but it gave Perkins everything he needed to launch an investigation to get Mangino out of Lawrence. Many assistants on Mangino's staff immediately thought, "Witch Hunt," and that's precisely what it was. By season's end, Mangino was out, and the process of finding a new coach was underway.
According to the article, one candidate was none other than Jim Harbaugh, who was fresh off his third season with the Stanford Cardinal. Harbaugh got an interview, in a hotel suite in New York City no less and reportedly "would have taken it" if offered the job. However, in his interview Harbaugh was honest about his interest in the NFL, and also said if Michigan called, he was gone. The combination of that, and Harbaugh wanting to coach the bowl game with Stanford before potentially leaving, made Lew Perkins go a different direction: Turner Gill.
Gill was the worst thing for Kansas at the time, going from a tough-minded and firm head coach in Mangino, to a positive-minded players' coach. Gill went 5-19 in Lawrence before getting the boot, and the carousel that still spins today began. Charlie Weis (6-22), David Beaty (6-42), and Les Miles (3-18) have all had a crack at turning Kansas around since that point, but administration changes and a lack of financial support have made sure that Kansas stayed put at the bottom for the last decade.
Now, Lance Leipold has the Jayhawks believing again after ending a 56-game road losing streak in the Big 12 and staying competitive in games against TCU, West Virginia, and No. 3 Oklahoma.
However, one has to wonder: what would Kansas look like if Harbaugh would've gotten the nod?