Baylor Bears
Big 12 Women's Transfer Portal Spins With Oklahoma, Baylor Moves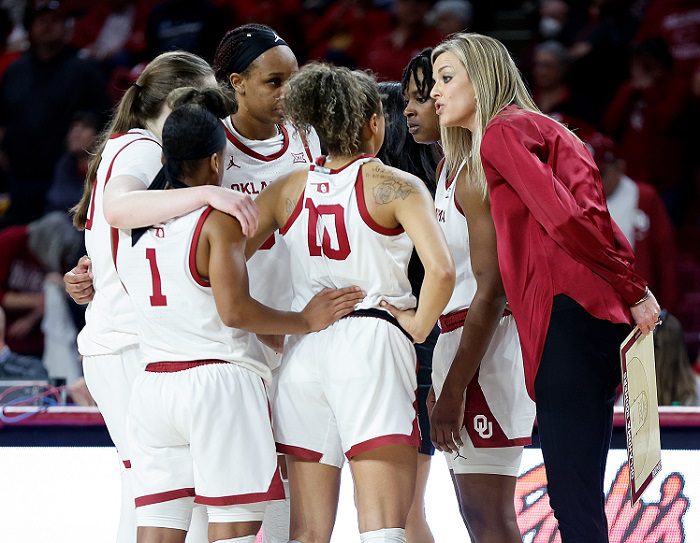 The Big 12 Women's Basketball transfer portal continued to spin, as both the Oklahoma Sooners and the Baylor Bears made high-profile additions to their rosters.
Aubrey Joens ensured that she would stay in the Big 12, as she announced that she would transfer to Oklahoma. Meanwhile, the Bears rebuilt their roster with a pair of talented SEC players in Kentucky transfer Dre'una Edwards and Missouri guard Aijha Blackwell.
Joens, the younger sister of Iowa State's all-time leading scorer Ashley Joens, announced her move to the transfer portal earlier this month. This means that the Joens sisters will square off twice in Big 12 Conference play next season. The elder Joens announced that she would return to Iowa State next season and use her fifth year of eligibility.
Aubrey Joens, by percentage, was one of Iowa State's best 3-point shooter last season, firing 42.5 percent from the 3-point line. She joins a Sooners team that was one of the highest-scoring teams in Division I and is anchored by the Big 12's all-time leading 3-point shooter in Taylor Robertson. Joens averaged 6.2 points.
Baylor, which lost NaLyssa Smith, Queen Egbo and Jordan Lewis to the WNBA, has taken in three transfers in the past week.
The two most recent are Edwards and Blackwell.
Blackwell was the Tigers' leading scorer last season and was a three-time All-SEC selection. She comes to Baylor with two years of eligibility remaining. She averaged 15.4 points and 13 rebounds last season, with the 6-foot forward's rebounding average second in the country. She also shot nearly 50 percent from the floor and 33.8 percent from the 3-point line.
Edwards played alongside the WNBA's No. 1 overall pick, Rhyne Howard, last season. She averaged 16.8 points and a team-leading 8.4 rebounds.
Earlier in the week, the Bears added 3-point shooting in Stanford's Jana Van Gytenbeek, who didn't play much for the Cardinal but picked up a national championship ring in 2021. She was a five-star, Top 40 player who shot nearly 38 percent from the 3-point line at Stanford.
In other transfer news earlier this week, Texas forward Lauren Ebo announced her transfer to Notre Dame and West Virginia guard KK Deans announced her transfer to Florida.
Big 12 Women's Basketball 2021-22 Transfers
(Out: after 2021-22 season; In: for 2022-23 season; new/old school in parenthesis)
Baylor
Out: G Kamaria McDaniel
In: G Aijha Blackwell (Missouri), F Dre'una Edwards (Kentucky), G Jana Van Gytenbeek (Stanford).
Iowa State
Out: G Maggie Frederick, G Aubrey Joens (Oklahoma).
In: C Stephanie Soares (The Master's University – NAIA)
Kansas
Out: G Erica Haynes-Overton, G Aniya Thomas (Missouri State).
In: G Wyvette Mayberry (Tulsa).
Kansas State
Out: G Jada Moore, G Marlene Lind Pedersen (Wyoming), F Rachel Ranke.
In: Gabby Gregory (Oklahoma), Gisela Sanchez (Arizona).
Oklahoma
Out: F Gabby Gregory (Kansas State), F Bre'yon White (TCU).
Oklahoma State
Out: F Tracey Bershers (UAB), G N'Yah Boyd (UTEP), G Micah Dennis, F Tori Garza (Tulane), G Lauren Fields, G Chloe Mayer, F Brittany Reeves (Mercer), F Sara Rodrigues, F Ruthie Udoumoh.
In: G Naomie Alnatas (UMKC), G Anna Gret Asi (Arizona), G Landry Williams (UMKC).
Texas
Out: G Ashley Chevalier (Texas Tech), F Lauren Ebo (Notre Dame), F Precious Johnson (Auburn), F Latasha Lattimore, G Audrey Warren (Georgia)
In: Taylor Jones (Oregon State)
TCU
Out: G/F Okako Adika, F Tavy Diggs, G Caroline Germond, G Aja Holmes, C Kayla Kokwuah, F Aaliyah Morgan (Louisiana Tech), F Yummy Morris (San Diego State), G Emma Schmidt (Duke).
In: F Bella Cravens (Nebraska), G KN'isha Godfrey (from Mississippi State), G Tomi Taiwo (Iowa), G/F Bre'yon White (Oklahoma).
Texas Tech
Out: F Chantae Embry (SMU), C Khadija Faye
In: G Ashley Chevalier (Texas), G Jasmine Shavers (from Mississippi State)
West Virginia
Out: G Jasmine Carson (LSU), C JeAnna Cunningham, G KK Deans (Florida), F Esmery Martinez, F Kari Niblack(Georgia), F Emma Shumate(Ohio State).
In: G Sarah Bates (Georgia Tech), G/F Kylee Blacksten (Colorado), G Kyah Watson (South Dakota).
Transfers verified at players' social media, team releases, wbbblog.com