Big 12 News
Bob Bowlsby Not Expected to Play Role in CFB Playoff Expansion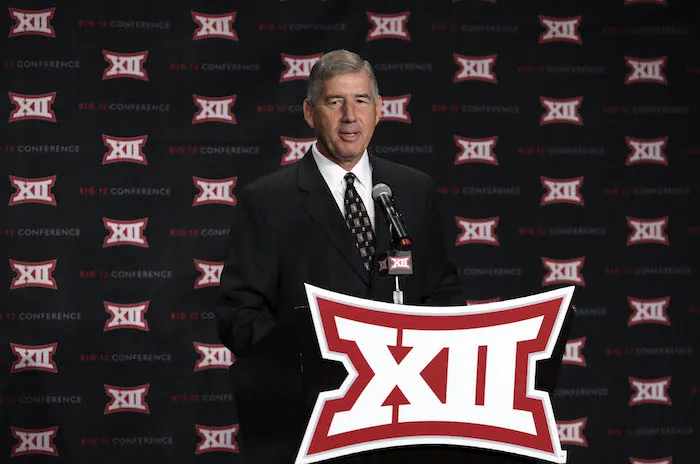 The announcement of Bob Bowlsby's departure from his role as Big 12 commissioner later this year came as a bit of a surprise to fans, as he was under contract until the 2025 season, and might cause some worry to expansion fans, due to him being one of the advocates to expand the College Football Playoff.
The 70-year-old commissioner, serving this role since 2012, was one of the four members on the College Football Playoff committee who proposed the plan to expand the playoff field to 12 teams, alongside Notre Dame athletic director Jack Swarbrick, Mountain West Conference commissioner Craig Thompson, and SEC commissioner Greg Sankey.
The playoff committee was unable to come to an agreement back in February as frustrations boiled over, stalling expansion talks and continuing the original 4-team format that is under contract until the conclusion of the 2025 season.
Bowlsby has tried to make his voice heard, continuing to push for an expansion as retirement looms stating, "If there's some role I can play, I'll be glad to do it." Earlier this month, Bowlsby was quoted by ESPN saying, "The way it looks to me is we're probably another year away from going back to the drawing board on playoff structure. I could be wrong about that. But I think the resolution of that process is going to be after I've retired."
The College Football Playoff committee met for the first time in person this last week since the meetings in February and, according to ESPN, College Football Playoff executive director Bill Hancock said there is no need for urgency. "I am happy to report the commissioners did not dive back into expansion this week. They will, but not yet. We have time. There's plenty of time. But I expect the conversation will get back going sometime within the next year."
There has been some pushback from SEC commissioner Greg Sankey, stating on Thursday that it's not fair to assume that his future 16-team superconference would benefit from an expanded playoff. Sankey also added, "I've said in July and August and September, we could stay at four. If people think that's posturing, it's not. We're going to have a really, really incredible conference when we're at 16 teams."
Big 12 fans might wonder why Sankey might be against an expansion, but it is easy to see considering that since the postseason format was introduced in 2014, the SEC has yet to get snubbed out of the playoffs like many other conferences. The SEC leads all conferences with 10 appearances by teams in the 8 years of the College Football Playoff, while the Big 12 has only seen 4 appearances, all from the Oklahoma Sooners.
As the Big 12 starts their journey of naming a new commissioner, let's hope that person takes as strong of stand as Bob Bowlsby did for a playoff expansion.
Who wouldn't love to be able to watch more football?