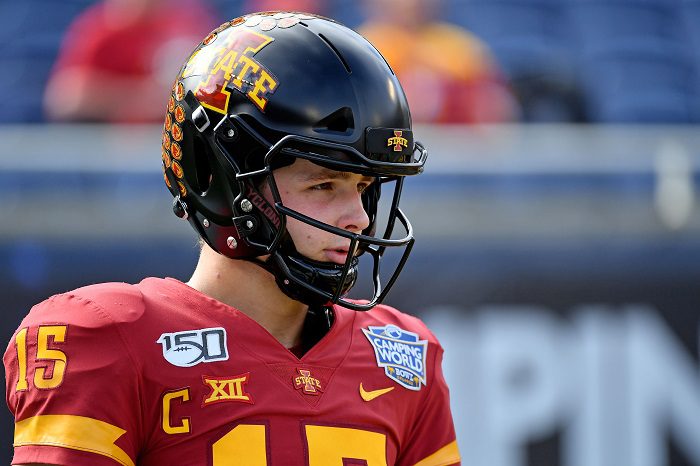 Iowa State quarterback Brock Purdy is Mr. Irrelevant for the 2022 NFL Draft, as the San Francisco 49ers took him No. 262 overall to end the three-day event.
Purdy is the best quarterback Iowa State has produced. He holds more than 25 records at Iowa State, including career passing touchdowns (81), career passing yards (12,170), career completions (993), and career passing attempts (1,467).
Purdy was responsible for exactly 100 touchdowns, which is 38 more scores than Bret Meyer had (62), who held the record before Purdy.
Since 2018, when Purdy took over the starting job, ISU went 31-20; a far cry from 11-37, the Cyclones' record in the four years before Purdy arrived on campus.
Purdy is joining a team that has an entrenched starter in Jimmy Garoppolo, a player the 49ers are trying to move because last year's first-round pick, Trey Lance, is waiting in the wings to start in 2022.
Purdy had a humorous reaction to his selection.
An ESPN reporter pointed out that last year's Mr. Irrelevant made his team.
Purdy's younger brother, Chubba, who is with Nebraska now, extended his contratulations, too.
Mr. Irrelevant has been around since 1976, when former USC and NFL receiver Paul Salata founded the event. He announced the final pick through the 2013 Draft, and his daughter took over in 2014. This summer, Purdy and his family will participate in "Irrelevant Week," during which there will be a golf tournament, a regatta, a roast, a trip to Disneyland and a ceremony which Purdy is awarded the Lowsman Trophy.
You can find Matthew Postins on Twitter @PostinsPostcard