Big 12 News
Kansas Football Has a Player Picked in 2022 NFL Draft Before Texas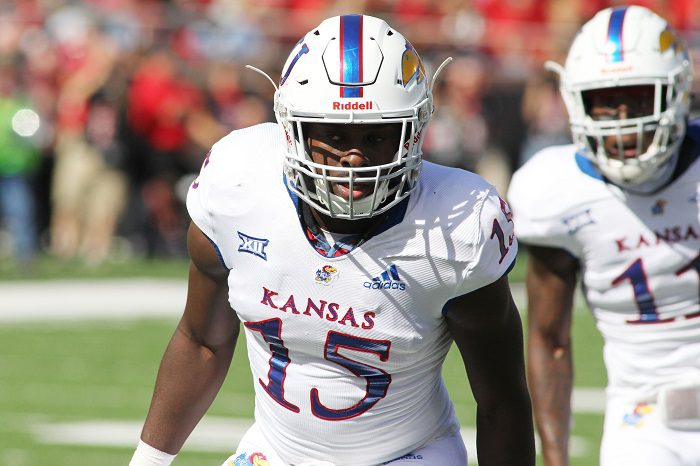 If someone told you any time in the last five years that the Kansas Jayhawks would have a player picked in the NFL Draft before the Texas Longhorns, would you ever believe them?
Probably not.
Well, that's what happened on Saturday, when in the sixth round of the 2022 NFL Draft, the Philadelphia Eagles picked Kansas linebacker Kyron Johnson with the No. 181 pick. He was the first pick from Kansas, while the Texas Longhorns had not yet had a player drafted.
There are a couple of takeaways here: First off, unlike some sports, football is one where you can work your way to success and overcome pure talent. Kyron Johnson was a three-star prospect out of high school and got picked over how many four and five-star prospects who were recruited to Texas in recent years.
Of course, let's not forget that the Kansas Jayhawks also beat the Texas Longhorns 57-56 in a program-defining win in Lance Leipold's first season in Lawrence.
Johnson becomes just the third Kansas player drafted since 2015. He joins Dorance Armstrong, who was taken by the Cowboys in the fourth round of the 2018 NFL Draft, and Hakeem Adeniji, who was selected by the Bengals in the sixth round of the 2020 NFL Draft. Johnson is also just the seventh Kansas player drafted since 2010.
However, Lance Leipold is impressively rebuilding the program, giving the Kansas fan base more optimism than it has had in more than a decade.