Oklahoma Sooners
Lincoln Riley Received Calls From Pitt Coach Over Alleged Tampering With WR Jordan Addison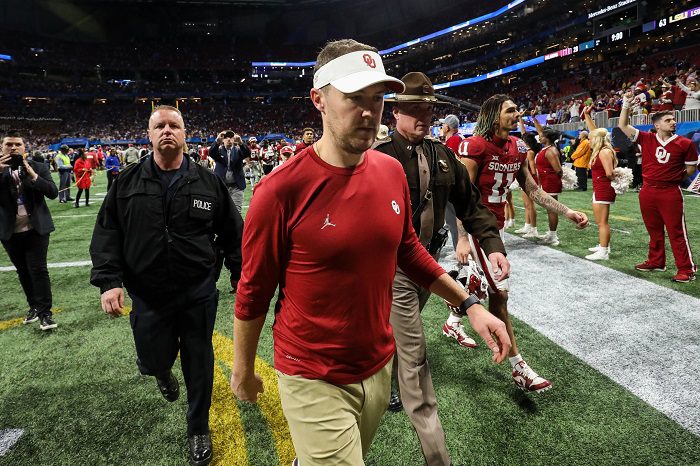 Lincoln Riley allegedly doing whatever is in the best interest of Lincoln Riley in the moment, ethics be damned? Color me shocked!
Multiple reports surfaced on Friday night that Pittsburgh's star wide receiver Jordan Addison was considering transferring to the USC Trojans, where there are rumblings he would be in line to receive a massive Name, Image and Likeness deal.
Addison is considered one of the best players in college football, as he won the Biletnikoff Award as the college football season's outstanding FBS receiver in 2021. He had 100 catches and 17 touchdowns last season and would immediately become the top target for USC QB, and former Oklahoma signal caller, Caleb Williams.
However, a source told ESPN that Pitt coach Pat Narduzzi caught wind of USC as a potential destination and called Trojans coach Lincoln Riley multiple times on Friday to express his displeasure. Pitt officials suspect that tampering could have occurred.
Of course, Addison's camp has denied all of this, with a source close to the wide receiver telling ESPN "no preordained destination" for the receiver and that he could remain at Pittsburgh. The source said that Addison isn't looking for an NIL deal, and any move would be tied to his professional development.
Frankly, there's nothing else that Addison's camp can say at this point, without burying Lincoln Riley for tampering.
If Addison wants to be eligible for the 2022 season, without needing a waiver, he has to enter the transfer portal by Sunday, May 1st.
Since Lincoln Riley became the USC head coach, the Trojans have taken in 15 transfers, including multiple players from the Oklahoma Sooners. There was plenty of discussion and criticism around how Riley went about his business in bringing former OU players on board upon his move to Southern California.
Addison is projected to be one of the top two wide receivers heading into the 2023 NFL Draft, which will take place in Kansas City, Missouri next spring.